My Sichuan
Sichuan (15 July – 18 August 2015)
To give you an idea of its size, consider that  Italy covers just over 301,000 square kilometers. Its capital is Chengdu, and it is divided into 21 districts and counties.
While the characteristics of its soil cause frequent and sometimes devastating earthquakes, the climate and vegetation allow for an animal and a plant we all know to thrive: I am referring to the giant panda and the Sichuan pepper, which, despite its name, has no relation to pepper, although they are both berries.
I made the trip with Pan, a Chinese boy born and raised in Chengdu who now lives in Italy, and lived with his family for most of the time. Although in summer it usually rains a lot in that territory, Pan and I were very lucky because we only met rain for a couple of days.
Before diving into the details of the trip, I need to clarify one thing: although Sichuan is bigger than Italy, its territory covers only 20 percent of China's land, so when you read "Chinese are like this" or "Chinese do like that", keep in mind that I am referring only to the Chinese people of Sichuan.
In fact, there are some physical differences between the Chinese of the North and those of the South (for example, in the North they usually have longer noses, similar to Caucasians), and considerable differences in habits, because of climate and other factors.
Some posts will follow a chronological order, while others will deal with specific topics.
Although this blog is fully optimized to be watched on phone screens, for the best experience I strongly recommend to use the screen of a computer, or at least a tablet.
Milan airport does not greet me in the best of ways, with two open desks for over 200 people waiting in line to check in. But my spirit is high, and during the long wait, I fantasize about dragons and lanterns.
Speaking of 'spirit': during the flight, the Etihad staff tries to get me drunk by having me taste different wines that they plan to offer in first class. Then, perhaps not satisfied with my response, they attempt to suppress me by shooting ice-cold air on my head, but I use the blanket as a shield and manage to survive until Abu Dhabi and my final destination, Chengdu.
Luckily, the reception from Pan's relatives is triumphant. We are immediately dragged into his uncle's restaurant and led to a private lounge, where the first of the many hot pots (huǒguō or 火锅 in Chinese) that I will consume over the next six weeks is waiting for us. In China, hot pot is the dish of conviviality by definition, so it is the perfect way to welcome guests, to dine with friends and sometimes even for business meals.
As you see, a pot with boiling broth is placed in the center of the table, and is kept warm by a small stove underneath. The pot is divided into two or more parts, so that the broth can take on diverse flavors depending on the spices added to it. Then there are different types of raw ingredients (meat, fish, vegetables, and mushrooms), which are to be dipped in this broth and cooked to taste, then dipped in a sauce and eaten.
Existing in several regional variants, the best known is definitely the one from Sichuan, which has the characteristic of being extremely spicy. Aside from the chili pepper, which covers almost the entire surface of the pot, this 'explosive' mixture also contains the amazing Sichuan pepper and doubanjiang, a paste made of beans and pepper. The only antidote to keep an unaccustomed mouth like mine from catching fire is a soybean drink, which I guzzle by the gallon before being stunned by a liquor at 52 degrees and nearly 700 yuan (about 100 euros) a bottle.
Since Etihad had the brilliant idea to leave our luggage in Abu Dhabi, Pan's father gave us some money to buy a couple of clothes, as it could take up to three days before we may use the stuff we brought. No better time to visit the Global Center, then!
500 meters long, 400 meters wide and 100 meters high, the New Century Global Center is the largest single structure building in the world, and houses stores, restaurants, cinemas, hotels, convention halls, game rooms and offices. Whether it's entertainment, recreation, shopping or food, there is really no lack of anything in here. The entrance to the movie theaters is spectacular, as you can see in the third photo, and a bright fountain embellishes the big garden, with water jets that follow the rhythm of the music in the background.
Passing by a shop window, I notice a beautiful shirt reminiscent of traditional Chinese dresses and, without much expectation, I ask Pan if there is any hope that the price is affordable. He tells me not to worry because 'coincidentally' it is on sale at a heavily discounted price that is within our budget, so after trying it on, I confirm to the sales clerk my intention to buy it. When I see that the lady exhibits a broad smile and invites us to a private room for a tea ceremony, I begin to wonder what the actual price of the shirt is, and only once we get home is it revealed to me that, far from being discounted, we paid the equivalent of about 120 euros for that garment, as it was woven using the leaves of a plant that grows only in Sichuan.
Well, what's done is done and Pan's family seems pleased to see me dressed like that, so my embarrassment becomes less obvious.
The following video gives you a better idea of what the Global Center in Chengdu is all about.
Global Center
I would say sobriety is not the main characteristic of this building…
The following day I have not fully recovered from jet-lag yet, so a visit to a place of worship, where peace and tranquility reign, is surely the most logical choice. The Wuhou Memorial Temple, then, is particularly interesting, not so much for the temple itself as for the stunning bonsai garden and adjacent park, covering nearly 37,000 square meters.
Wuhou was erected in 1672, during the Qing Dynasty, in memory of Zhuge Liang, Emperor Liu Bei's military strategist, and is located on the southern outskirts of Chengdu.
Also very interesting is the road that runs alongside the memorial, called Jing Li (last photo).
Below, I offer you an overview of the park.
The loud rustling noise you hear in the background is caused by a type of cicada endemic to Sichuan. Chengdunese love it, because to them it represents "the sound of summer".
Wuhou Park
Spontaneous singing and dancing, (as well as the practice of tai chi), are daily activities that can be observed throughout Chengdu's parks and many squares, especially at sunset.
Downtown Chendgu
Chengdu can count on five ring roads, three of which are free while the two outermost are toll roads. Although they are all part of the territory of this metropolis of 21 million people five times the size of Rhode Island, only the three innermost arteries are considered as belonging to the city, since the other two cover more rural and less densely populated areas.
Even though the city is divided into districts, in order to understand the location and characteristics of any place it is often more practical to specify within which ring it is located, rather than to indicate the district to which it belongs.
We can call downtown Chengdu anything inside the first ring, which is also where things are most expensive. The photos and videos of this section of the post were taken in that area.
Chunxi Road is one of the most popular areas for upscale shopping in Chengdu, and although the English name "road" suggests a single street, it actually incorporates several streets, covering about 20 hectares. In addition to high-fashion stores, this area is teeming with restaurants for all tastes and, of course, shopping malls, among which the IFS stands out, featuring a giant panda whose head can be admired from the large terrace in which it is very pleasant to sip a drink.
Fortunately, the city has not forgotten its origins, so, quite close to the IFS, there is an entire block composed of old restored buildings, which are still inhabited.
But… what am I doing with a crab made of caramelized sugar in my hand? In this part of Chengdu, especially in the 'street food' areas, it is not unusual to find a stall with a wheel of fortune hanging on the wall, with animals drawn on it. You turn the wheel, and the animal indicated by the pointer when it stops is the one that will be created, thanks to special molds, by the stall manager. A neat idea, which I hope one day will catch on in Europe as well.
And now, let's have a look at the nightlife in downtown Chengdu.
Lan Kwai Fong is a maze of streets entirely occupied by nightclubs, where music of all kinds is played and where alcohol inevitably flows plenty. Despite this, fights or incidents caused by drunkenness are quite rare. In the last photo, you can admire the beautiful Jiu Yan Qiao Bridge.
In the following video, after about a minute, you see glutinous rice balls, very similar to mochi, coated with a mixture made of sesame seeds, peanut powder and brown sugar. What makes them distinctive, and typical of Chengdu, is the way this coating is achieved, which I will let you discover for yourself by watching the video. For the record, I did all the filming well after midnight on a weekday, which proves that Chengdu is a city that never sleeps.
Lan Kwai Fong
Where the night is young … always!
Another must-see attraction in Chengdu is a an act whose origins date back to the late Ming Dynasty, and which is held inside the Sichuan Opera House on Quingtai Road, whose entrance is visible in the first photo.
The show consists of mask changes, shadow play, fire performances, puppetry and acting out funny skits, or at least I assume they are funny, based on audience reaction.
The waiting room is very nice, as it includes several traditional Sichuan objects, and sets the atmosphere for what you will see next.
For me, the occasion is even more special because I can finally 'exhibit' the very expensive shirt and sip three different kinds of tea with pastries while waiting for the show to begin.
Another cool thing is that you are allowed in the dressing rooms before the show, to watch the makeup operations of the actors.
Filming is not allowed, so I just take a few photos. However, no photo or video can reproduce the magic of such an evening, so all I can do is reiterate my advice to keep a night off so as not to miss this opportunity, when you are in Chengdu.
If you are not afraid of heights, another way to spend a pleasant night downtown is to visit the West Pearl Tower, also known as the Radio & TV Tower.
339 meters high, this structure is the tallest building in Chengdu, and in addition to offering a breathtaking view, it has a revolving restaurant at 209 meters height, allowing diners to enjoy an ever-changing landscape as they consume their meal.
West Pearl Tower
Dinner with a view at the revolving restaurant 
Now that we have talked about restaurants, there is one place that is definitely worth a stop if you want to experience real Chengdu cuisine in an environment where you will almost certainly be the only foreigner.
Kang'erjie Tasty Shashlik, at 99 Zhongdao, not only is not mentioned in guidebooks, but it does not even have a sign outside the restaurant, being located in the courtyard of a building with no sign on the street to let you know which door you should enter.
Yet, to eat there, you need to make reservations several days in advance, because word of mouth among locals is more than enough advertising to ensure the success of the restaurant.
Apart from a light appetizer on the house, served on a small plate, all the rest of the food, grilled, is presented on skewers containing small pieces of meat (including many internal organs), vegetables, mushrooms, and tofu. At the end of the meal you pay according to the number of skewers on the table, which are counted by inserting them into a special machine (and, believe me, the machine is needed, as two lunchers may have accumulated over 30 skewers).
Frankly, I don't understand how it is possible to calculate the price in this way, since the ingredients of the skewers are not all the same, but as the bill was very reasonable, I did not see fit to ask.
Anyway, I recommend you make a reservation and go there with somebody who speaks Chinese, because neither the managers nor possibly the other diners will be able to communicate with you in another language.
Secret restaurant
When eating is only one of the interesting aspects of a restaurant
On the other hand, if you are in the mood for a coffee or thirst-quenching drink in the mid-afternoon, what could be better than a café on the 43rd floor of a skyscraper? Unfortunately, I haven't marked the address, and Internet is no help either, but as you can see, the building is quite unusual and any taxi driver familiar with downtown Chengdu should be able to take you there, assuming the place still exists when you read this article.
43rd Floor Café
For a pleasant break with a breathtaking view
How about closing this roundup of downtown attractions with a skyscrapers bonanza?
Even though I can't visit them, when I see an unusual looking skyscaper I can't help being fascinated by it.
Those shown here are mostly part of a very expensive area of Chengdu, called Century City.  
Century City
Because twenty skyscrapers are better than one
Moving in Chengdu
As you may guess, getting around by car in a metropolis of 21 million people can be a nightmare, although here, as in almost all Asian metropolises, there is a system in place, which I will tell you about later, that allows you to limit somewhat excessive traffic congestion.
But what are the alternatives to the automobile?
First place goes indeed to motorbikes, which we can see parked at the base of a staircase leading to the 2nd ring road, the reason for which I will explain later. Then, of course, there is the subway, with 12 operational lines that rank Chengdu's metro system 4th in the world in terms of length.
I found the "We hope you enjoy a civilized journey" sign on the sliding door very cute. In case you are wondering, it is a rough translation of "Please behave in a civilized manner." And civilized people Chengdunese certainly are, since although I am not Methuselah, I always met a young man ready to give up his seat as soon as I boarded a subway car or bus.
Speaking of buses, which apparently are perfect for taking a nap even when the vehicle is overcrowded, we cannot fail to mention the 2nd ring road, one of the 5 ring roads across Chengdu's territory.
28.4 kilometers long, its peculiarity is that it is entirely elevated, ranging from 50 to 75 feet in height. By the way, Chengdu is the only city in the world that boasts a bus line covering an elevated road. That is why in a previous photo we saw dozens of motorbikes parked at the foot of a staircase leading to a stop of this bus, on which we will now take a quick ride.
Bus on 2nd Ring Road
Just imagine the sight, when you drive around an entire metropolis at 65 feet of height
An unusual and fun way to circulate is offered by the huosanlun, a three-wheeled vehicle banned inside the first two rings but tolerated in the suburban zone, where traffic is less intense and subways and buses cover fewer areas. I used it the day after my landing to go to the police station, where I filled out the arrival form and advised of my intended movements, a mandatory procedure for any foreigner entering Chengdu, but I assume throughout the rest of China as well.
The same tolerance is adopted toward the many youngsters who offer a ride on a moped for a few RNB, and for the ready-to-eat food stalls you can detect here and there, also in suburban areas.
Although the authorities will never admit it, it is obvious that they consider a priority to give a chance to those who, for various reasons, would find it difficult to enter the workforce, as opposed to forcing people to comply with regulations.
Housanlun
For a bit of three-wheel nostalgia
And how do pedestrians fare? Well, let's say that crossing one of the many major intersections in Sichuan's capital city for the first time is a thrilling experience for those who are not used to seeing bicycles, mopeds, cars, and trucks pop up from all directions even when the light is green.
Mind you, this is not a sign of lack of respect for the rules, because the others, for all intents and purposes, have green lights too! How is this possible? They explained to me that if this were not done, that is, if only pedestrians and cars proceeding parallel to them were given the green light, after a few minutes there would be traffic jams of several miles, absolutely impossible to manage.
So, how should you behave? Simple: just maintain the same line and speed throughout the crossing, so that the drivers' trained eye and brain can calculate where you will be in the next few seconds, and thus avoid a collision. Changing direction, or even worse, panicking and getting stuck in the middle of the road, are sure ways to put yourself in danger.
Such a behavior is easier said than done, so much so that in the first three days I refused to cross major intersections unless Pan took my hand. Actually, the same thing had happened to me in Naples and Palermo, but that's another story…
Street crossing
Thrill-seekers have the option to cross a busy intersection
Museums and the like
I confess I devoted very little time on this trip to Sichuan to visiting museums, as I focused more on other activities. That is why in this section I will show you only one proper museum, plus two other places that I think almost everyone could enjoy.
The first worth mentioning is the Giant Panda Breeding Research Centre, which is the world's leading panda research and conservation center. Unfortunately, during my visit the red pandas were in their breeding season, so access to their area was prohibited, but the experience was still very interesting.
I reckon that the quality of the video is poor, but on the official website you will find a lot of material to improve your knowledge about these fascinating animals, including beautiful videos and photos.
Panda having lunch
Being a panda is not so bad, after all
The 'Jinsha Site' museum offers a very interesting overview of the city's history, from its founding to the present day, in a tour that runs through five rooms, plus another dedicated to temporary exhibits.
Of this museum I also appreciated the park, where you can see some wild animals, and the care devoted to attracting the attention of children, with dedicated panels and rooms.
I may call the last proposal in this section The Optical Illusion Museum, since I have no idea of how to name it.
I don't even remember the address, but that is of little importance because there are at least five such places in Chengdu, and all of them offer more or less the same attractions. One thing is guaranteed: fun!
Malls & karaoke
Some may wonder if it is really necessary to devote a section of this post to shopping malls. Well, perhaps not everyone knows, but in many Asian countries malls are a sight for sore eyes, because of the opulent decorations and the attention to detail. Or maybe you have already forgotten the Global Center, which we visited a couple of pages ago?
Chengdu's malls have two features that I really appreciate: there are plenty of activities for children, both inside and outside, and lots of them feature rinks to practice figure skating.
To certify how seriously Chengdunese take this activity, a few days before my visit one rink hosted world bi-champions and Olympic runner-up Pang Quing and Tong for a performance.
And what about the irony in the choice of name for certain stores, playing on the fact that Chinese are famous for cloning and reproducing virtually any object?
Karaokes are amazing, and I link them to malls because they have the same energizing effect on me. There, you eat, drink, and occasionally even sing…
…and since I am also a singer (by the way, don't forget to check the pages of this site dedicated to my albums), I couldn't resist offering you an excerpt of my performance on the notes of 'The Winner Takes It All'.
You were looking forward to this, don't deny it! 🙂
The Winner Takes It All
Sir Joe, disguised as Agnetha Fältskog, performs in a karaoke room
Qingcheng mountain (the birth of Tao)
In the year 143, Zhang Ling moved to the Qincheng mountain, specifically in the Tianshi cave, in search of absolute purity, a sense of purpose and contact with nature, and developed a set of precepts that founded the basis of what later became Taoism.
That's why Pan and I, after two weeks of nonstop fun in Chengdu, decided to take a break and spend a couple of days in a less mundane and more spiritual setting.
Getting here from Chengdu is very easy, as all you have to do is take the train to Qingchenshan and from there a cab, which will drop you off at the imposing entrance gate to the mountain in no time.
Even before starting the ascent, the view is enchanting.
The ascent to the 1,220-meter-high summit is indeed challenging.
However, steps placed along the entire route, many refreshment stations, and facilities in which to rest in the shade, make it fairly easy and enjoyable.
About halfway, there is a rest area with a beautiful temple where you can pray, mini-restaurants for eating and, if you are lucky, you can see a master practicing the art of calligraphy.
A little further on is also the inn where we stopped for the night (see video further down).
The view from the top of the peak is breathtaking. Once there, you are supposed to write a phrase of good wishes on a card, and hang it wherever you find some space.
The descent is from another side of the mountain, so the danger of getting bored does not exist even on the way back.
This recount ends with a short video summary. Granted that no video can recreate the magic of the ascent up this mountain, and that out of respect I have decided not to film prayer rituals, I hope I convinced you that if you are in Chengdu, it is worth planning a couple of days for this out-of-town excursion.
Qingcheng mountain
It may not be Everest, but up there you feel like you are at the top of the world
The word Dujiangyan denotes both a city and a UNESCO World Heritage irrigation system built around 256 B.C., to contain and harness the waters of the Min Jiang River, and which is still in operation today.
As you can notice on the map taken from the 'Sichuan Travel Guide' site, from Mt. Qincheng it makes sense to make a stop at the area named 'Du Jiang', before returning to Chengdu.
The best way to admire the irrigation system is to go to the beautiful Qinyan Tower, set on a hilltop from which we can see the entire valley. The problem is not so much going up the hill, as a very tall escalator eliminates all the effort, but crossing the suspension bridge over the Min Jian River called Anlan, which is 261 meters long and swings more than several people are willing to endure. On the other hand, that bridge is known as one of the five oldest in all of China, so any intervention is done only to ensure its safety, without altering its essence.
That said, you can reach the tower also from the opposite side. So, if you are not in the mood for adventure, that solution is the answer, although in my opinion you would miss a lot of fun.
The second reason for visiting Dujiangyan is to enjoy its beautiful covered bridges, which for some strange reason are completely ignored in the local tourist guides.
Below you can see a couple of examples, plus a video summary of my experience in this beautiful area located 45 km northwest of Chengdu.
Qinyan tower
Unforgettable view of the dujiangyan irrigation system
Nanchong is a city of about two and a half million people, located 200 km east of Chengdu.
Although it is undoubtedly nice to visit, I confess I went there only because Pan had some relatives he wanted to introduce me to.
I will show you some photos anyway, also because, over there, I discovered an interesting habit that I did not get to observe in Chengdu, that is the custom of drying noodles and chili peppers in the streets.
Let go back to Chengdu for a moment, and talk about food.
Just as the people of Shanghai are considered by other Chinese as industrious and focused on making money, and those from Beijing as bumptious and arrogant, Chengduese are seen as the lazy guys of China, the ones always ready to eat and have fun!
Although reality is quite different, this remark suggests how important the act of eating is, not only in Chengdu but actually in most of Sichuan.
Chengdu has entire streets totally occupied by restaurants on both sides (so we are talking about dozens of establishments in just a few hundreds square meters), and in the less-covered areas there is always some sidewalk stall displaying ready-to-eat food.
So much offering means that the standard quality is high, regardless of the stature of the establishment, because a restaurant that doesn't offer a meal up to par cannot survive more than a few weeks.
It also means that eating at home in Chengdu is almost more of an exception than a rule, because many establishments stay open at night and because prices are for all budgets, from starred restaurants to squalid rooms where you eat with plastic cutlery and paper plates and napkins.
You also have to be careful how much you order, because the situation can easily get out of control, as you have seen in the above photos.
Sometimes, unexpected and funny events can occur in a restaurant, and I will now tell you what happened to me in a military-style place, the name of which I unfortunately no longer remember.
Actually, where it happened is not that important, because in Chengdu eating is a feast, an event to be celebrated in cheerfulness and conviviality, so something nice could happen to you anywhere and anytime.
So, we enter this restaurant where, as usual, I am the only foreigner.
A waiter in a camouflage suit greets me by calling me 'Master'. Then, he gives me a cloth to wipe my spectacle lenses, and then, before seating me, he invites me to wear an apron to avoid staining my clothes. This is actually a very common custom throughout China and even, as I will discover a few years later, in South Korea.
As I stare anxiously at the pot, foreshadowing yet another gigantic, super-spicy meal, I notice that a pig-eared waiter has picked a microphone to say: "I will now offer a gift to a randomly chosen person, if he or she can defeat me to a hand of paper, rock, scissor."
As you may have already guessed, he chooses the most unusual-looking guy, I beat him with his generous contribution, and so the stuffed animal is all mine. You can imagine the bus ride home, holding that huge purple bear that is still the undisputed king of a room in my house in Italy.
Even the grocery departments of supermarkets are fascinating to a European, because of the many products we are not used to seeing on the shelves. Beyond the exotic fruits, just think of the dozens of different soy sauce, or the many kinds of sugar to be purchased literally by the pallet.
For your convenience, below each photo I have included a description of the item displayed.
And now get ready for a feast (alas for the eyes only) of some delicacies, not only of Chinese cuisine, that you can enjoy in Sichuan restaurants.
I remind you that by clicking on a photo, you can see it in full size. If you want some more elucidation about a dish, please write it in the comments at the bottom of the page, and I will do my best to provide you with details.
This tasty chapter on food and drinks ends with a video shot in Nanchong with Pan's relatives, in which I explain that alcoholic beverages are poured into a bowl made of oven-baked mud, while food is arranged on a rotating plate in the center of the table.
Everyone picks up and consumes some of the food that is easiest to reach, then the plate is rotated so that more food becomes available. When a plate is empty, it is replaced with another course. Usually there are about ten courses, but in meals with Pan's relatives I have always counted at least sixteen. I say no more…
What I have always appreciated about the Chinese way of eating is the absence of the concept of 'portion'. All courses are arranged in the center of the table, and everyone draws from there and puts a small amount on the plate in front of them. The system works because there is total trust no one will take advantage and gorge on the tastiest or most expensive dishes, leaving the less appetizing ones to the other people.
Although you can find this characteristic also in other Asian countries, I think the Chinese tradition whereby what matters is not the single but the collective also comes into play here. This means that an individual may not take an action that could harm the collective.
Small digression: have you noticed that in sports or entertainment activities where perfect synchronization of movements between various members of a team is required, the Chinese are always the best or among the best?
This, too, stems from their reverence for the collective good, because agreeing to train and sacrifice for several hours a day every day for something that will not bring personal glory (can anyone name one of these athletes or acrobats?) requires a mindset in which ego is almost totally stifled by the pursuit of the greater good, which is achieved only through teamwork.
Dinner in Nanchong
The subtle art of sharing
The stolen photos
In this mini-section, I do not want to show you a specific place, but fragments of daily life that have struck me and that I want to share with you.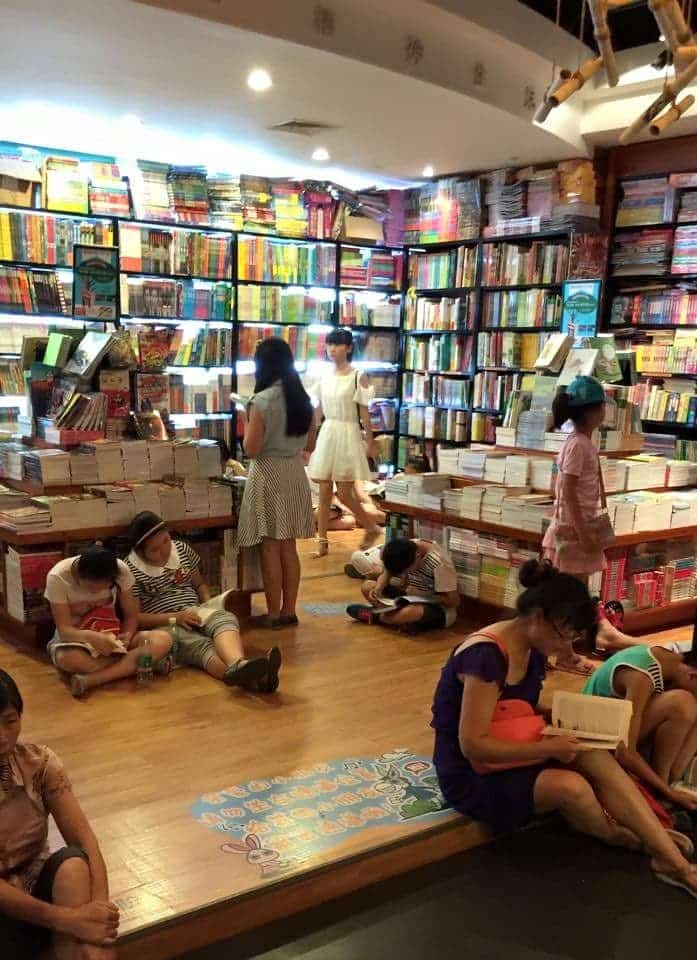 Chinese love to read, and the most avid readers are children! Whether it's a bookstore or the book section of a supermarket, any place is good for sitting somewhere and getting down to read.
Try to imagine the following scene: a dozen children plus a few adults sitting on the floor in absolute silence, each of them immersed in their own world. Their eyes don't convey the boredom of having to perform an imposed task, but rather a genuine eagerness for knowledge. Isn't it a wonder?
If it seems strange to you that a place appointed to sell books and not to lend them allows such a thing, I must tell you that libraries in Chengdu are few and not very well organized, so bookstores make up for the lack of this service.
As I have already mentioned, many malls offer entertainment opportunities for children, and many of these are educational. The theme of this corner inside a mall, for example, is prehistory, with a focus on dinosaurs.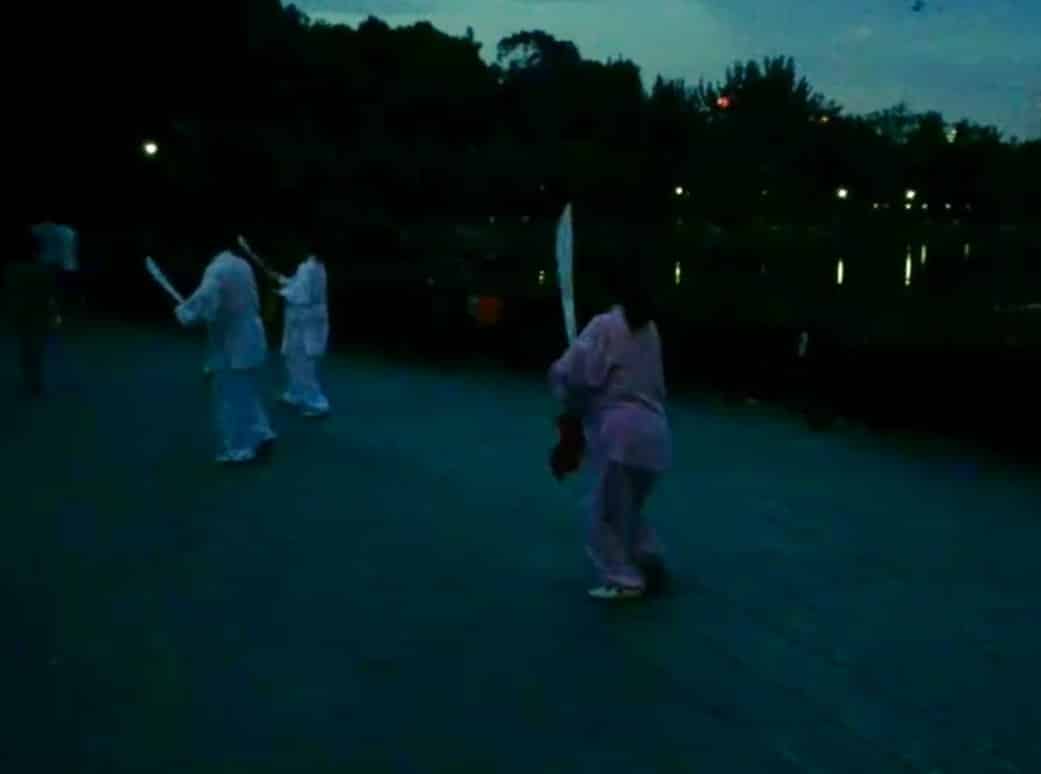 Tai chi, in this case with swords, is practiced by thousands of Chengdunese every day, as soon as evening falls, in squares or parks, possibly near a pond. Pure poetry in motion…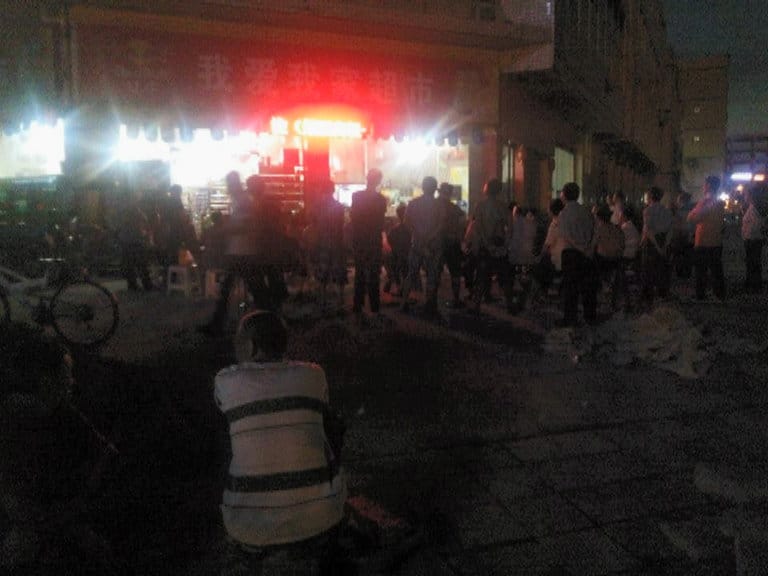 Although everyone now has a TV set in their home, it is still common in summer for bars to put a TV set outside the premises, to allow people living in the area to watch TV all together and comment on what is being broadcasted.
Summary
One factor that led me to embark on this trip to Sichuan was undoubtedly curiosity to find out what Chinese are really like, because to understand it from those who have emigrated not only to Italy but to much of the Western world is almost impossible, as they are a very closed community with little inclination to integrate with us.
Granted that there are several exceptions, the reason is simple: most of the Chinese who have moved to Western countries are traders, interested only in making as much money as possible and then going back home. They respect us, they don't make trouble for us, but to them we are only customers, and they have no interest in trying to understand us.
Although there is nothing wrong with it, I really hope that second-generation Chinese will integrate with us, and that it will become more and more common to see Italians, French, Germans and so on of Chinese descent as lawyers, bank clerks or janitors, just to make some examples.
There is also another category of unapproachable Chinese, in this case unfortunately not entirely by their own choice: it's the people who are part of that segment of the population, especially in the north and west of the country, who become easy prey for people smugglers, because for geographical reasons or simply because they were born poor, they did not have access to an adequate level of education.
Smugglers sort thousands of them every year to the various European countries, where they become slaves in the tanneries or, in case of girls, end up as prostitutes or in 'massage parlors.'
Why does no one lift a finger to stop this slave trade? Because irregular entries by land, which by the way are higher than those by sea, are not easily noticed and therefore, not making noise, they are not perceived by the population as a problem that politicians should get their hands on.
Fortunately, in Sichuan I discovered mainly cheerful, industrious people, optimistic about the future and quite aware of their position in the world.
Although they are partly critical, sometimes rightly so, of the Western way of life, I found only few people brainwashed by a certain propaganda, which makes me optimistic toward a possibility of dialogue between their world and ours, perhaps not at an institutional level but certainly at the level of the people in the street.
The best memory I have taken home is undoubtedly the daily wait for sunset, to see the elderly dancing or practicing tai chi, and the attention paid to the children's leisure and educational activities.
In case I was not clear enough… I can't wait to visit again!
I leave you with a video summary, and I hope you will like reading the stories of my other trips as well. If you have enjoyed these pages, please leave a comment below, because feedback is essential to let me know if I have spent many hours providing a service that was deemed useful.
Constructive criticism and stories from other people who have spent some time in Sichuan are also welcome, as are suggestions for other places in Asia that you would like me to tell you about.
I also suggest that you follow my Instagram profile (click on the icon at the bottom of the page), to be the first to find out when I post more travel reports.
Thank you, see you next time!
Sichuan
What a fantastic experience it was!