Thailand & Malaysia
(13 October – 1 November 2018)
The north of the country is very mountainous, while the central part is mostly flat and the long peninsular strip to the south shows also mountainous formations.
I made the trip at the end of the long monsoon season, which runs from May to September, because the prices are still low season, but the weather gets better and better as the days go by, so it seemed the ideal compromise.
I stayed in Bangkok, Krabi and Chiang Mai so that I could savor, respectively, the chaotic life of a metropolis of over 10 million people, the relaxing life of the famous Thai beaches and the peaceful, almost sacred atmosphere in the north. 
In addition, having friends also in Kuala Lumpur, I thought it worthwhile to also drop by Malaysia's capital, located a few dozen kilometers south of the Thai border, and explore its surroundings.
Departure to Bangkok
Air Italy, an airline born a few months earlier from the ashes of Meridiana, is offering at a very inviting launch price a direct flight from Malpensa, which in less than 12 hours makes it possible to reach Bangkok. Since my travels will not be linear, but rather of this type: Bangkok – Krabi – Kuala Lumpur – Bangkok – Chiang Mai – Bangkok – Milan, I leave with only one rollerbag to take with me on board.
Since the temperature in all the places to be visited should always be around 30 degrees (except Chiang Mai, where it is cooler at night), a few T-shirts and two pairs of shorts will be more than enough, plus underwear of course.
Laundry services in Thai hotels are very cheap, and not having to check in luggage will allow me to save a great deal by taking advantage of the rates of the many low-cost airlines operating in the area, which work on the same principle as Ryanair, i.e. basic ticket for a few euros and luggage check-in fare up to three times more expensive. 
Having to stow everything I may need during the long flight inside my rollerbag, I decide to spend 30 euros for the Priority Board service, which allows boarding together with business class passengers, and thus ensure that I can put the bag on the headboard above my seat, and easily access it during the flight.
To my dismay, upon boarding, economy class passengers are called directly, and I find myself at the back of the line because I was not prepared for such a surprise. To my remonstrances, the gate attendant tells me there are no business class passengers and that Air Italy had informed noone of the existence of a Priority Board service. 
Fortunately, the flight is not full, and somehow I still manage to stow my luggage near my seat. Incidentally, the same scene will repeat on the return flight.
In hindsight, perhaps it is not so strange that Air Italy will cease operations and be liquidated only 16 months later.
Fortunately, the in-flight scenery is beautiful for much of the trip (assuming that, like me, you are a lover of arid, rocky, desert landscapes), and time passes quickly and without further unpleasant incidents. 
First Days in Bangkok
In order for you to understand what happened once I landed in Bangkok, I must first better explain the relationship I have with the people I visit on my trips to Asia.
These are all people I have met online for a wide variety of reasons, and with whom I have established a solid friendship over the years. They are almost always much younger than me, and that gives me two advantages:
1) More time on their part because they have not yet started a family
2) The opportunity to get a glimpse into the future of their country, through an analysis of their lifestyle, attitudes, expectations and so on.
With Thais, however, you need to consider another aspect: as they explained to me, in their culture the relationship between a young person and an 'elderly person' (meaning over 50) is based on mutual assistance, that is, the elderly person provides for all the material needs of the young, who in turn will show respect and devotion to the elderly by trying to meet his needs.
In its most degenerate form, this type of relationship leads to abuse of all kinds, even toward underage. It is no coincidence that Thailand is also famous for sex trips by middle-aged Western men, who sexually abuse little boys and girls for pennies, especially in the Pattaya area, taking advantage of their poverty.
In my case, however, the arrangement with a 25 years old guy with whom I had been in regular contact for almost a year was that I would pay for his hotel and meals (he did not live in Bangkok), and in return he would be my guide throughout my stay in the capital.
Unfortunately, when a relationship is based more on mutual convenience than affection, there is a risk that the law of the market will take over, and that is exactly what happened to me: no one waiting for me at the airport, no one answering my messages and calls. The guy in question then apologized a couple days later via text message, telling me he had found a more profitable way to spend those days, and I haven't heard from him since.
Fortunately I had a second contact, who turned out to be more reliable and was very helpful during my days in Bangkok, but he too 'disappeared' once he completed his task, which is why I will not show his face in the photo you see below.
Am I perhaps suggesting that Thais are just ungrateful parasites? Absolutely not! As I will prove in the rest of this article, Thais are kind and always smiling people who are victims of the abuses of a political system uninterested in the welfare of the citizens, and who try to get by as they see fit.
If you don't experience their life you have no right to judge them, however you should be informed of some of the social dynamics that prevail in that country, and with which one day you may have to deal with.
I chose my first hotel in the northern part of town, close to the second-largest airport, Don Muang, from which only two days later my early morning flight to Krabi will depart.
A frog that entered who knows how in the lobby greets me when I check in, but despite this not-so-encouraging premise the Livotel in Kasetnawamin turns out to be a spotless, quiet, and welcoming establishment. 
I call the guy who I was supposed to meet only toward the end of the month, I explain the situation, and ask him if he could be available on these first two days as well, obviously after work. His affirmative answer lifts my spirits, and we agree I will pick him up at the mall where he works a few hours later.
Those who have read my article on Sichuan already know how much I love Asian malls, and Central World is no exception.
Opened in 1990, it has been expanded several times over the years and currently occupies the ninth place in the world ranking of malls in terms of size. Eight stories high, it houses a convention center, a hotel, a 15-screen cinema, dozens of restaurants, hundreds of stores and a parking lot for 7,000 cars.
"John" (fictitious name) has finished his shift at the restaurant, so we are ready to launch ourselves into Bangkok's nighttime chaos, which in truth is very similar to the daytime chaos.
As I will soon learn, in fact, Bangkok is a very tiring city: whether it is noon or midnight, anywhere in the city you come across a barrage of pedestrians, cars, mopeds, buses, tuk tuks and bicycles, with a temperature always above 30 degrees and considerable humidity, which the hundreds of thousands of air conditioners scattered around the city only make worse.
To those unaccustomed to these conditions, the whole thing causes a sense of dizziness (also due to the noise) that obviously increases the more hours you spend outdoors.
Yet, it is impossible not to be fascinated by it, if you are a sociable person.
The next day, to fully immerse myself in the local culture, I decide to visit the Chatuchak market, partly because it is not very far from the hotel.
To describe it, I cannot find a more apt definition than "total delirium." From Moroccan antiques to live pythons, almost any purchase is possible in this monstrous labyrinth that has over 15,000 stores spread over 27 sections, making it the largest weekend market in the world, with more than a hundred thousand visitors a day. Seeing is believing.
John joins me in the early afternoon and suggests a trip on one of the very many boats that ply the Chao Phraya River. The beauty of this type of excursion is that it works a bit like taking a bus, in that you get on one pier and can get off at the next one, look at what's in the area and then take another boat and travel another stretch of the river, at your leisure. We go back and forth until it gets dark, then I go back to the hotel because I have a flight to Krabi the next morning.
Krabi
Krabi is a charming town of about 32,000 people located in Phang Nga Bay, in which I will spend almost a week relaxing and hiking.
I have chosen it because, although it is quite close to Phuket and thus shares its characteristics, it is much less popular and therefore quieter. As much as I have already fallen in love with Bangkok, the idea of spending six quiet days there after only two and a half days in the capital does not displease me at all!
The hour between Bangkok and Krabi is one of the most pleasant I've ever spent in the air, thanks to the beautiful scenery and fantastic service of Lion Air, whose air-conditioning system spreads a fabulous lemon scent in the cabin and which allows me to discover how good dried banana stuffed with tamarind is!
Just when I think I've found my favorite airline, ironically and tragically only two weeks later a Boeing 737 MAX of this very same Indonesian airline sinks into the Java Sea, minutes after taking off from Jakarta airport, killing all 181 passengers on board, plus the eight crew members. It's fair to add, however, that the investigation will lead to the identification of a design flaw in the MAX model as the main cause of the accident, which not surprisingly will bring this kind of aircraft to be grounded few months later, following a very similar accident occurred in Ethiopia. 
I have to say that the bed in my room at The Nice Hotel is so cozy, I almost regret unmaking it. In addition, I have a small balcony overlooking a pond, and although the area seems rather suburban, I am only a few hundred meters from a beautiful temple, the city center, and a huge street food market, as popular here as I saw in China three years earlier.
In China I had also discovered durian, a fruit as good (if you love fruit that tastes like cheese) as it is pestilential, as you can see from the signs posted in the room and in the elevator, respectively, that threaten a very steep fine (2,000 baths is equivalent to about 54 euros, a huge amount for a Thai) to anyone who dares to open one inside those premises.
My problem at the moment, however, is not to avoid opening a durian, but where to try the famous Thai massage, since in some wellness centres being a middle-aged white man might overstimulate the imagination of some young girls who nurture the perfectly legitimate dream of moving to a wealthier country and leading a more affluent life.
Thinking I will be safer in my hotel, I immediately make an appointment at the front desk with their massage parlor, which turns out to be available right away.
Very soon I realize I've made a bad mistake, because the lady in charge, who is at least 10 years older than me, twice offers herself as my wife after telling me her life story, then she suggests several times to call her directly to my room next time, and, when she realizes my lack of enthusiasm for the idea, she crushes my back, causing my body to make cracking noises which are possibly heard even in Italy.
For obvious reasons, I have no video or photographic record of this experience, so you have to take my word for it. 
The experience with the lady masseuse, although a tad unsettling, has worked up an appetite for me, and since it is almost dinner time I go check out the nearby street food market. This gives me the opportunity to tell you about the amazing Thai cuisine, and the delicacies that I will get to enjoy in the following days as well.
In Thailand, eating at restaurants is almost a crime, because the most authentic cuisine is found on the street (a statement that applies somewhat to all of Southeast Asia). The characteristic of these 'street kitchens' is that they offer only two or three dishes, and consequently they do them very well.
Above you can see some places where I ate. I chose the first one because I noticed that the guy, while cooking, would purposely drop bits of food on the ground for the many stray dogs and cats that roam the streets of Krabi. He only makes pad thai and fried mussels, but they are a sight to behold. This dinner cost me 2.20 euros, including water and a tip.
The second restaurant makes only three kinds of soup, but they are so good that I ate all three, much to the amazement and satisfaction of the cook. Here I paid 3.60 euros.
What about the banana and coconut pancake and an amazing durian smoothie, both for 1 euro?
The last two photos show shrimp with rice, cashew nuts and vegetables and canned dragon fruit, which can be found at any food stall or supermarket.
In case the message is not clear enough, I hope the following video is sufficiently explanatory.
Here you can get an idea of what goes on in every town and village in Thailand during most of the day, and keep in mind that I filmed less than 20 % of the market.
I wish I could spent at least one year here, just to try every single dish from every single stall.
The video ends with a brief glimpse of an indoor market.
Street food in Krabi
When eating is pure pleasure
Still full from the dinner the night before and with a sore back, I am not in the best condition to face the physically demanding day ahead, but I get up in good spirits anyway because I know the effort will be worth it.
The Tiger Cave Temple, in fact, is a spectacular Buddhist temple in an equally spectacular location northeast of Krabi. It takes its name from a legend that the monk who founded it had gone to meditate in a cave in the area, and there he found the footprints of a tiger that just passed by.
Getting to the temple is easy, you do it by car, but getting to the giant golden statue of Buddha at the top of the mountain requires a 600-meter climb, 309 meters of which vertical. You accomplish it with the help of 1,260 steps, some of which are over 30 cm high.
The 32 °C, 91% humidity, steep steps, and a few skirmishes with monkeys constantly trying to steal my bag do not make the task easy, but from the top of the mountain the view of Krabi and the entire valley does not even make me feel tired anymore…
…and that's good, because a rapidly approaching thunderstorm forces me to face the descent immediately, and I take refuge just in time under the awning of a restaurant near the temple.
The following video is an account of this day, from the view from the hotel balcony to the cab ride to the temple and everything that happened afterwards.
All of the videos in this article were retrieved from Facebook, which unfortunately over-compressed them. Fortunately, the situation has improved since then.
Tiger Cave Temple
Tiring but extremely rewarding day
Back at the hotel, I already know that the next day I will have no intention of walking for long, so at the front desk I book a tour called 4 Island Tour by Speed Boat. When you are in Krabi, you will find dozens of agencies offering it, so you will have no difficulty in booking.
The islands covered are Phra Nang, Tup Island, Chicken Island and Poda Island and the activities offered during this trip are swimming in crystal clear water, snorkeling, sunbathing and taking lots of photos … just what I was looking for.
The first look at the beach from where we will leave is not very encouraging, with many stray dogs wandering around looking for food or snoozing in the not-yet-hot sun. Then I am reminded of the scene at the restaurant a couple of nights before and the fact that Thais seem very generous and kind-hearted toward animals anyway, which lifts my spirits a bit.   
The view at the sea is spectacular, with so many rocks (calling them islands seems a bit of an exaggeration) emerging from the depths. When we leave, I immediately reach the front of the speedboat so that I can get a picture taken.
I think the photos above require no special explanation or comment. The question is not "whether" to go, but "when".
4 Island Tour
For a relaxing day out in nature
As I really like the idea of alternating the sacred and the profane, the next day I go to visit Wat Kaew, which is the largest temple in Krabi and one of the most prestigious in the entire area, located only 400 meters from the hotel.
Besides being gorgeous, the white and yellow that dominate this structure further emphasize its cleanliness. This is something I have not reported so far, but if you are hesitant to embark on the trip because of possible poor hygienic conditions, you can relax in Thailand: not only in the temples and tourist areas, but also in the outdoor kitchens or in the more isolated areas, I have always found a very high degree of cleanliness, considering that we are in a country with high average temperatures and humidity rates for most of the year.
Having still the entire afternoon to spare, I explore a bit of downtown, which I have neglected so far, carefully avoiding the streets where you can clearly see girls outside massage parlors, ready to grab clients.
Just to make myself clear: there is absolutely no danger in entering those establishments! At most you will get a marriage proposal in a more or less joking tone, and in some places situations may arise that a lonely man might even find very pleasant. It is simply not the right environment for me.
Although there is not much to see, I found the 'monkey' traffic lights very cute, as well as the huge crab overlooking one of the main streets and the view from that same spot, very similar to what I had seen from the beach the previous day.
The following day I leave the city again and travel to the northwestern part of Krabi Province for an experience that represents a first in my life: a kayak excursion on a river!
Ao Luek is about 45 km from Krabi, and inside the Bok Khorani National Park, which belongs to its territory, you can reach some lovely places by river, such as the water caves of Bor Thor or the Skull Cave, which contains prehistoric paintings and is named after the many skulls of primitive men that have been found there.
One great thing about this excursion is that even if you have never been on a kayak in your life and/or are no longer young, you can safely tackle the route because there is always an experienced guide with you who can do all the work involved in moving you around. You just need to look around and take lots of pictures if you feel like it.
This is another excursion you will find at any travel agency in Krabi, and almost certainly at your hotel as well. 
Ao Luek
If you don't believe in the existence of walking fish, watch this video
Time has flown by and it is already time to prepare for the next destination. Come along, I look forward to seeing you all in…
To cover the 750 km that separate Krabi from Kuala Lumpur, a city of about 1,800,000 people and the capital of Malaysia, the most convenient solution is that offered by AirAsia, which offers several direct flights lasting 70 minutes.
I am hesitant to get a ticket from them because of several negative reviews, but reading between the lines, most of the criticisms are caused by the ignorance of the passengers.
Unfortunately, there are still many who, when traveling abroad, expect things to work as they do at home, and instead of reading the airline's regulations, they assume conditions are the same as when they take a flight in their own country.
AirAsia was one of the first airlines to put a 7 kg limit on carry-on baggage, something that a couple of years later would become the norm almost everywhere, but their regulations say it clearly and csan be easily tracked before you buy your ticket.
Still, at the Krabi airport I see a few Caucasian tourists waiting to board the same flight as me who have brought half their possessions with them, and demand to take them on board. Under these conditions there will be inevitably problems with the company, and in fact the boarding procedure takes forever because of the arguments between these arrogant yokels and the boarding attendants.
I will take two more flights with AirAsia during this trip, always to my full satisfaction.
The hotel was booked by an Australian friend who, having discovered a few weeks earlier that we would be in the same city on the same days, had suggested that we share a room so we could afford a hotel with a high standard.
I don't belong to those who see wealth as an absolute evil, because I am a firm believer that if you have both talent and the courage to take risks, you deserve to be rewarded. So, I am also not against luxury, as long as you savor it in small doses, because when it becomes a habit it completely loses its meaning.
And the word luxury, for the Pullman Kuala Lumpur Hotel, is certainly appropriate, as I find myself in a room on the 24th floor with a view of the Petronas Towers, check in inside a private room with a waiter bringing drinks, a tropical-style swimming pool, and a host of benefits that you can read about in one of the photos above.
Access to the Executive Lounge with permission to eat and drink to one's heart's content at certain times of the day is very appreciated, although I have to be careful not to get carried away, especially with alcohol.
I drink little, but unfortunately I have a weakness for cocktails, and to know that I can order as many as I want since they are already included in the room price is a temptation that could prove fatal. 
But evening is about to fall, so it's time to go out for dinner and enjoy some of the city's nightlife. Although it is as chaotic as Bangkok, I find it less noisy and stuffy, consequently also less tiring to live in.
Kuala Lumpur
Nightlife in the capital of Malaysia
The next day I get up early, not only because I am curious to see what the hotel has to offer for breakfast, but also because at 9:30 a.m. Kenny, the local friend who has offered me on a silver platter the motivation to pop over to Malaysia, will pick me up. 
Kenny shows up with a friend of his, and first I am taken to visit the Batu Caves, a series of beautiful caves north of Kuala Lumpur that are home to over 200 animal species and a colony of about 300,000 bats.
The caves were discovered by an American in 1878, and to reach the main one, called Temple Cave, you must climb the 272 steps of a beautiful multicolored staircase.
Temple Cave is 180 meters long, 100 meters high and can be visited with a guide. At one time access was free, but the terrible habit of some visitors to carve their names on the walls forced the local government to patrol and regulate the entrance.
In fact, wearing a helmet is mandatory not so much because of the fall of debris from the ceiling, which is rather unlikely, but to protect oneself from the frequent droppings of the lovely bats, which often throw an unrequested souvenir against those who dare disturb them in their home.
The complex is also home to a fair number of monkeys and a temple.
When the visit is over, it's time to do some shopping at the Central Market, with its pavilions divided by geographic area and active since 1888.
Then comes what is always one of my favorite moments when I travel, which is the sampling of local desserts. Kenny offers me Malaysia's most distinctive dessert, cendol, which includes coconut milk, glutinous rice, beans, and tapioca.
I find it delicious, and for the first time in my life, I eat powdered ice. It would be a good four years before I found it in another dish, this time in South Korea … but that story is for another post. 
Next is a brief visit to the local Chinatown, and some may wonder what is so special about it.
Well, you should know that Petaling Street, and particularly the glimpse of the street you see in the second photo, is one of the hubs of the global counterfeit goods trade. Everyone knows it, but no one takes action.
A 'Rolex' for 30 euros? Why not?
Now we are ready for one last tour of the city, before I am driven back to the hotel, which by now we have learned being quite close to Kuala Lumpur's best-known building, the Petronas Towers.
October 22nd is the day devoted to visiting the Genting Resort & Casino, located atop a mountain 50 km northeast of Kuala Lumpur.
As the name suggests, this is the ideal place to spend a day of shopping and gambling, but what makes it even more interesting is the presence of a beautiful temple adjacent to the complex, namely the Chin Swee Caves Temple.
The sacred and the profane meet again, and the location (here we are surrounded by wild vegetation at 1,400 mt above sea level) is undoubtedly ideal both for those who want to enjoy an exclusive setting, away from the smells and bustle of the city, and for those seeking refuge in prayer.
The temple attracts worshippers not only from Malaysia but also from China, Vietnam, Singapore, Thailand, Indonesia, and Taiwan. I will show you a video with more details below.
On this Malaysia excursion I have mentioned shopping a couple of times, but do you think an Asian mall lover could limit himself to visiting two or three?
So here is the usual roundup of these little wonders, and just think that in Kuala Lumpur there is even a mall with a working roller coaster in its aisles, precisely at the Berjaya Time Square. Stuff to die for!
Another thing I love about these places are the signs, which are often curious, at least to those not from this part of the world.
I show you a couple: the first is a proof that the curse of 'Durian, The Stinky' does not stop at the borders of Thailand, while the second … well, I don't think it needs any explanation. As much as the first instinctive reaction is undoubtedly laughter, this should also remind us how there are still many people in the world for whom something as trivial and obvious to us as a toilet is actually a novelty to them.
It is now time to return to Thailand, but not before a video summary of these last two days in Malaysia.
A day in Malaysia
A very interesting country, from the little I saw, although I could never accept some of its human rights limitations.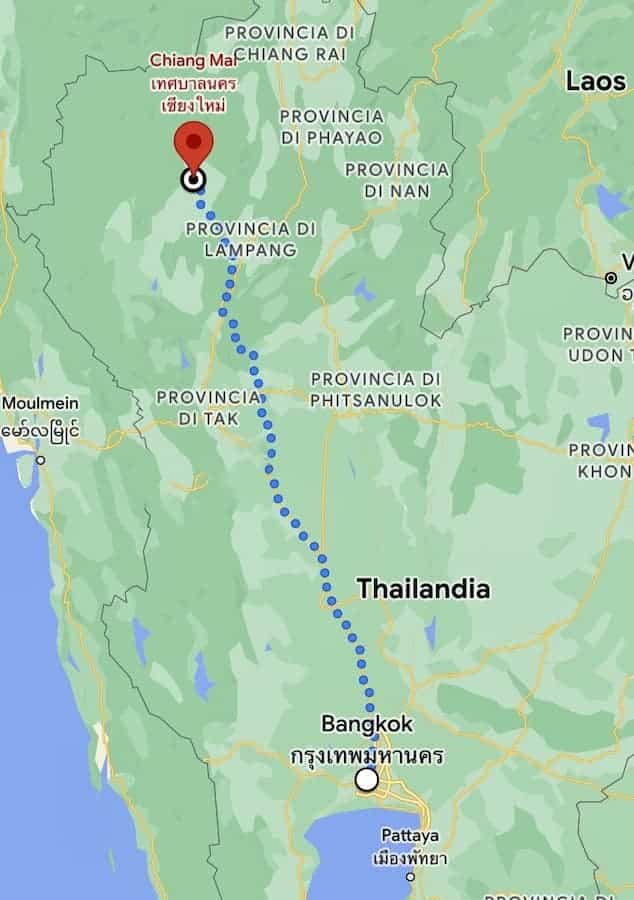 With its 132,000 inhabitants (1,800,000 if you count the entire urban area), Chiang Mai is Thailand's second largest city.
It is located 700 km northwest of Bangkok, in a valley in the country's most mountainous area, with the Doi Suthep and Doi Pui mountains, both about 1,700 meters high, dominating it and bordering its western periphery.
While I was in Malaysia, I received wonderful news: my friend Vinh, a Vietnamese boy I met when he was a cook in Boves, in the province of Cuneo, and who has returned to live in Ho Chi Min, his hometown, has confirmed that he will come with me to the ancient capital of a kingdom that more or less corresponds to today's Thailand, and he will also stay a couple of days in Bangkok, where I will spend the last five days of my trip to the land of Siam.
We meet at Bangkok's Don Mueang airport and I give him right away a copy of my first two albums, The Observer and Universal Laws, since I never had a chance to do so while he was in Italy.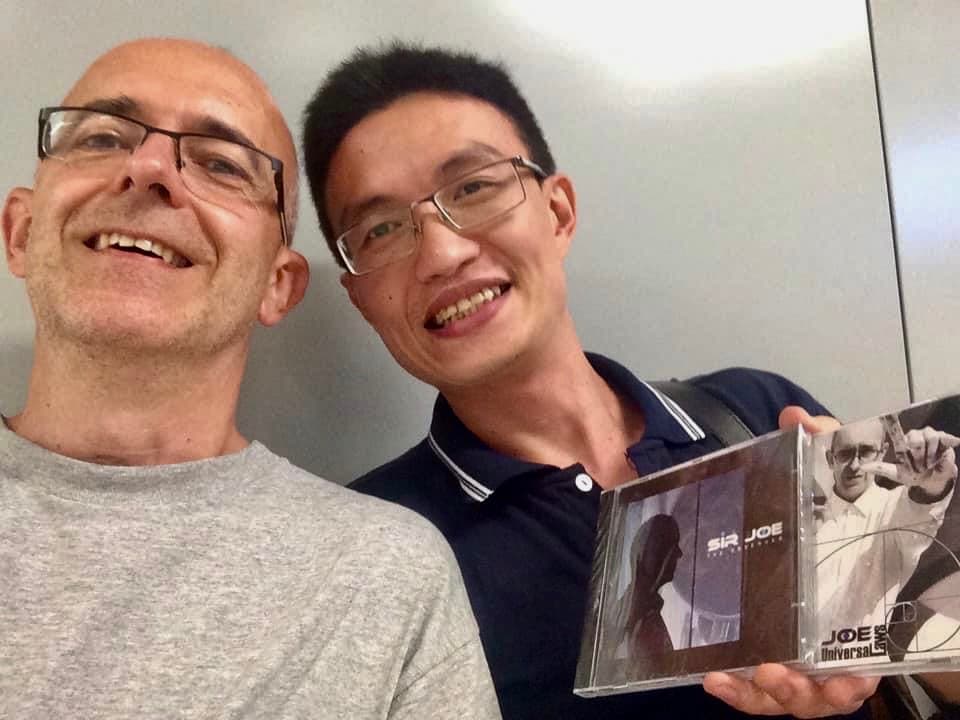 The Somwang Boutique Hotel, which for the record costs us 16 euros per person per night, including breakfast, turns out to be very nice, very green and with a nice pool that I will use often, while the town immediately strikes me with its canals and much less stifling climate than anywhere else I have been so far.
Although we are only 310 meters above sea level, the mountain air is undoubtedly perceptible, and the nights are pleasantly cool.
Just enough time to change (the flight was delayed three hours), and we are ready to rush to a traditional northern Thai dinner that Vinh has booked at the local cultural center.
Although it will be of the most uncomfortable meals of my life, the food is delicious and the atmosphere very pleasant.
The mesmerizing performance of song and dance that takes place before our eyes at the end of the meal certainly contributes to the atmosphere of the evening. The performers are great, and their colorful traditional clothes a joy to behold.
Dinner in Chiang Mai
Excellent initiative of the city's cultural center, allowing tourists to sample local food and enjoy a performance of traditional songs and dances
Vinh is indeed an excellent planner; in fact, besides this dinner, he has also organized the trip that the next day will take us almost to the top of Doi Suthep, a mountain I mentioned earlier, to visit Wat Phra That, a Buddhist temple apparently founded in 1383 and one of the most important pilgrimage sites in the entire country.
From Chiang Mai we climb the hairpin bends of Doi Suthep on a songthaew, a public transportation vehicle widely used in Thailand and Laos, then climb 309 steps to get to the temple. As you may have guessed, whether in Thailand or Malaysia, one has to endure hundreds of steps to visit a temple. My poor knees give heartfelt thanks….
The first item of note when you arrive is the statue of a white elephant, commemorating a legend according to which a white elephant that suddenly collapsed once it arrived here while carrying a relic inspired the construction of the religious site.
There is really a lot to see, so I prefer to leave it to the photos.
Back at the hotel, tired but ecstatic, one of those unexpected events occurs that make you glad to be an inhabitant of planet earth: I am on the terrace collecting my laundry, when suddenly I notice that the setting sun is piercing a huge tree not too far from the hotel exactly in the middle.
Fortunately, I have my cell phone with me, so I immediately take a picture without wasting time with the settings, so as not to lose that magical moment that would last only a few more seconds.
That is why the photo deserves a space of its own; not because it succeeded particularly well technically, on the contrary, but because it is as if the Universe reminded me that the sacred does not exist only when you visit a temple, a church or a mosque, but you can find it on any occasion, if you keep your eyes open and your mind focused on the present moment.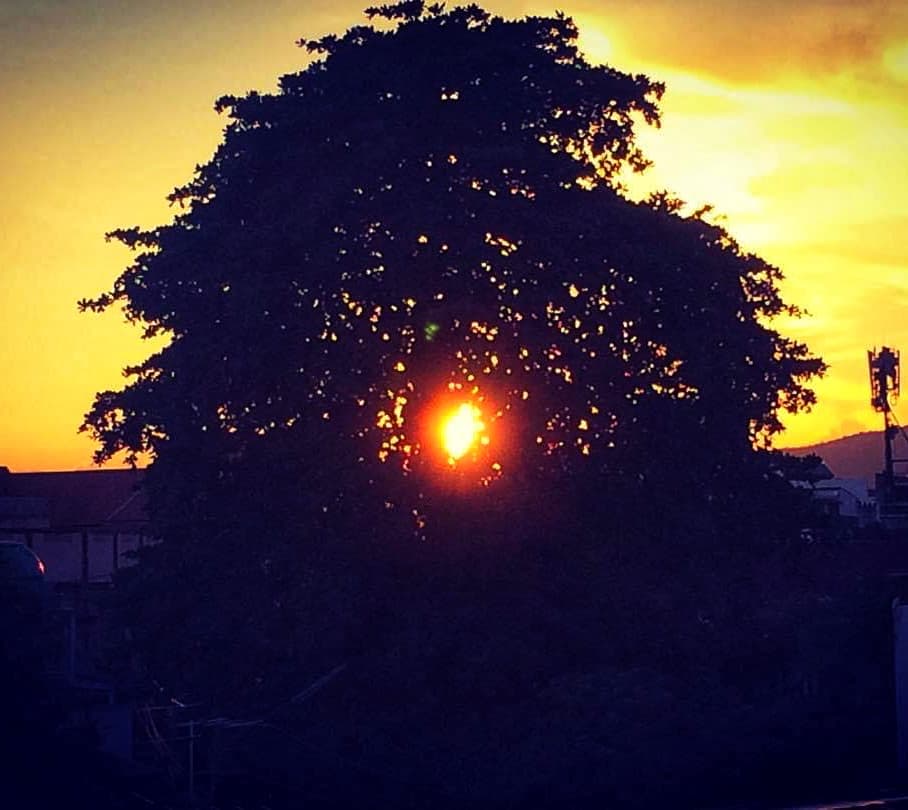 Considering that there are more than 300 temples in and around Chiang Mai, you will not be surprised if I tell you that you only have to leave your house and walk a few hundred meters in any direction to find one, a bit like with churches in Italy.
Now I show you Wat Chedi Luang, located right in the center and dominated by a wide Lanna-style stupa, which took several years to build and was damaged by an earthquake in the 16th century.
Founded in 1,401, it was a source of controversy in the early 20th century because some of the parts rebuilt after the earthquake were thought being part of the culture of central Thailand and not the Lanna, who belong to this area.
Be that as it may, the site is certainly worth a visit.
We bid farewell to Chiang Mai with one last roundup of temples.
I apologize if I can't tell you the names, but at the time I didn't think I would someday publish these photos for an audience beyond my friends, and when I saw that everywhere I went there was a temple, I kept shooting photos because they were beautiful, but I didn't pay much attention to names and stories anymore.
Anyone who might be able to help me catalog them is of course welcome, either by writing me from the contact section, or with a comment at the bottom of this article.
Back to Bangkok
The third installment of my stay in Bangkok was the longest, despite lasting only five days.
In hindsight, the idea of the repeated 'touch and go' turned out to be apt, because as I have already said, I found this sprawling metropolis extremely tiring, because of the heat, humidity, constant noise and crowds, even though there is a lot to enjoy and in the end I said goodbye with a tinge of sadness, because I would have gladly stayed longer.
Anyway, having left the very chaste and quiet Chiang Mai, the return to the Bangkok atmosphere is almost traumatic because, without knowing it, I have booked the guesthouse where Vinh and I will spend the next two nights in an area where red-light clubs go crazy at night, although Silom is not a famous neighborhood for this kind of activity.
Considering that any middle-aged white man here is seen as a potential millionaire looking for a good time, as soon as night falls and we go out to look for a place to dine, I am assailed by dozens of girls and boys offering 'special massages,' 'ping pong ball shows,' and contortions of all kinds. Fortunately, Vinh takes matters into his own hands, posing as my 'Thai boy' and making it clear that the potential customer has already been taken.
Once we've escaped this friendly band of assaulters, we get something to eat at one of the thousands of stalls that populate the area.
The first photo below doesn't help to form an idea of the situation, but I didn't feel like filming or looking for more telling shots.
The other two photos show, respectively, the aisle of a market and one of the thousands of street food stalls where, as always, the food is delicious.
Should I be tempted by the neighborhood's nighttime attractions, the thought of having to wake up at 6:30 a.m. the next morning would bring me back to milder advice. In fact, we have planned an excursion to the floating market of Damnoen Saduak, a town 73 km north of Bangkok and home to one of the country's largest floating markets.
Arriving at the site by bus, we embark first on a long-tail boat and then on another type of boat without a motor. Frankly, I was confident of a rather relaxing and authentic experience, but instead I find those canals full of tourists and busier than the streets of Bangkok!
Fortunately, the always relaxed attitude of the Thais makes it all enjoyable, and then the seafood pad thai and coconut ice cream purchased on the fly from the boat would deserve an award.
The most interesting thing of today, however, is discovering that people here carry around quite unusual pets.
Below, you can also see a video summary of the day.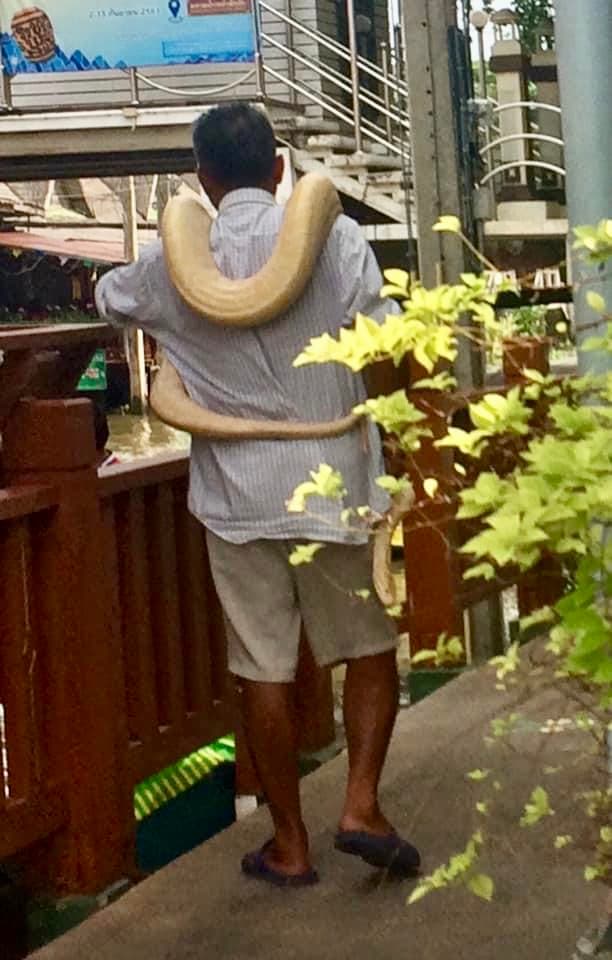 Floating market
In Damnoen Saduak you can experience something perhaps not entirely authentic due to the overcrowding of tourists, but certainly interesting
Like any self-respecting Asian metropolis, Bangkok has its own beautiful observation tower, much to my delight.
The Bayioke Tower II is an 88-story, 309-meter-high hotel, making it the tallest hotel structure in Southeast Asia but only the fourth tallest building in the city. The observatory is on the 77th floor, while the restaurant, in which I can say I took my craving for fish off for a few days, is on the 83rd.
The view of the city is remarkable.
Having shown you beautiful temples in Krabi, Chiang Mai and Malaysia, I don't want to give you the impression that Bangkok is just a city of vice. In fact, Thailand's capital boasts some remarkable temples, among which Wat Traimit, or the Temple of the Golden Buddha, undoubtedly stands out.
The Buddha in question is the largest solid gold statue in the world and one of Thailand's and Buddhism's most precious treasures.
For a couple of centuries, its value was not recognized because in 1765, to protect it from looting by the Burmese besieging Bangkok, it had been covered with a thick layer of stucco painted with gold paint.
It was not until 1955, when the statue fell during a move and the stucco splintered, that the temple manager noticed the gold gleaming beneath it.
To end the trip in style, I treat myself to the last two nights in a 5-star hotel. I have already expressed my thoughts on the concept of luxury, so we can move forward.
The
Lancaster Bangkok
is definitely a hotel to recommend, and I booked it at a super discounted price from the Secret Escapes website.
I take this opportunity to point you to the two sites I use to book luxury hotels when the budget allows me to spoil myself for a couple of nights. The first is the aforementioned
secretescapes
, while the other is
voyageprive
.
Both are absolutely reliable for hotel reservations, meaning that the price you will pay is actually the lowest price available on the market at that time (or at least this has been my experience with them for the past eight years), while I do not recommend using them to book additional services such as excursions or event tickets, for two reasons:
1) Bookings are not handled directly by them, so if the communication between the site and the local agency they rely on is not optimal, you could, for example, arrive in Dubai still not knowing whether the desert excursion you booked months earlier was successful, as happened to me.
2) Unless you are dealing with exclusive events, which should be booked months in advance, when you arrive there you will find the same prices directly at the hotel or travel agencies, and much more choice.
I have always wanted to bathe in the open-air pool on the roof (or nearly so) of a skyskraper. At last I can have this treat, and if the pool is all to myself and the view pleasant, the pleasure is double.
My bedroom presents a curious feature: if you wish, one wall of the bathroom becomes transparent, so you can see it from the bed. I leave it to you to imagine the uses that such a feature can allow. 
Now let me show you some signs I found in Bangkok hotel rooms.
The first one teaches us that Bangkok's sewage system is rather fragile, so even toilet paper that ends up in the pipes could cause problems, while the last reminds us how the relationship between politics and the Thai people is often contentious.
At the cinema, before each film, they show a video with images of the king from childhood to the present day, with a patriotic anthem playing in the background. Everyone has to stand up and, when finished, bow their heads before sitting down again.
It may just be my impression, but more than respect and devotion, among the spectators in the audience I seemed to detect concentration in making sure that they perform the ritual in the right way. Criticizing the king in public or showing disrespect to him can indeed bring very serious consequences, even to a foreign tourist.
There are two other things you absolutely must not do while in Thailand:
1) Turning your back on the Buddha, such as taking a selfie next to a statue.
2) Pointing your finger at someone or something, to indicate them. Although the intention is harmless, pointing with the finger is considered an aggressive and accusatory gesture.
Of course there are other gestures normal to us that you should avoid there, but the ones I just described are the most common mistakes that an uncaring tourist usually makes.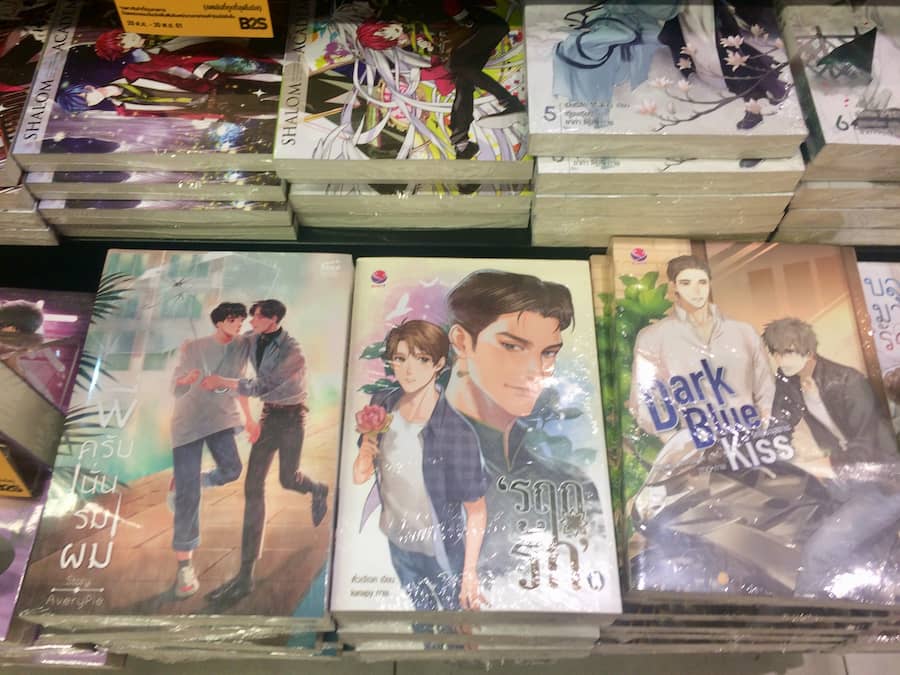 Mangas featuring same-sex romances are all the rage in bookstores, demonstrating the high degree of civilization this country has reached in terms of tolerance for alternative romantic relationships.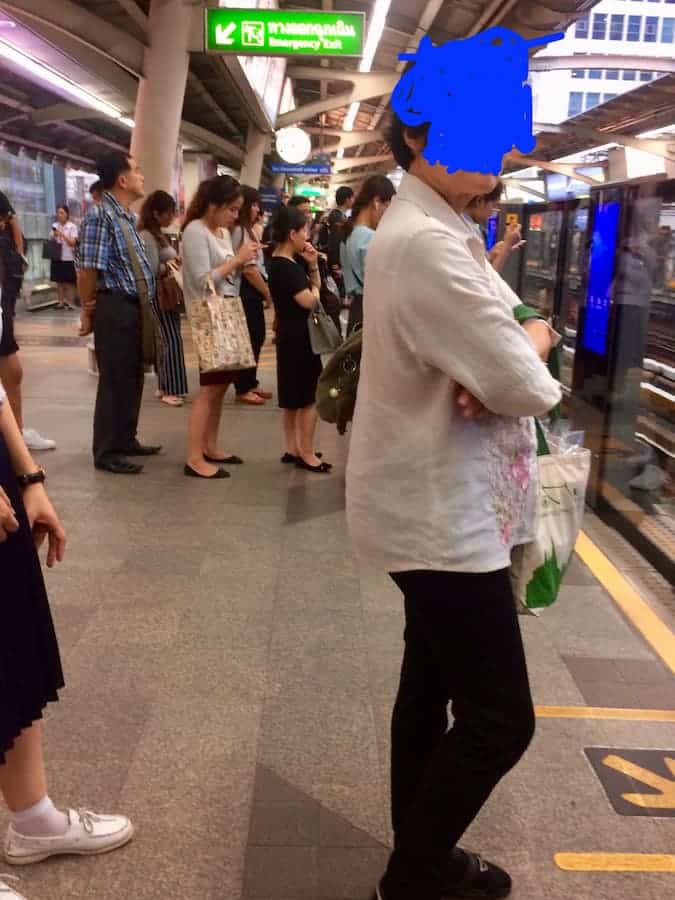 Thais are very respectful of the line at the public transportation stop. You stand on either side of the door and let people get off, before getting on.
Summary
After four cities, six flights and nine hotels in 19 days, it is time to return to Italy.
Thailand is definitely a fascinating country with wonderful nature, and the Thai people cannot leave you indifferent, thanks to their calm manner and ever smiling faces.
I must admit that sometimes I had the impression not to be treated as a human being but rather as a cash machine, from which to take the greatest possible advantage.
In these case, however, you should always consider the poverty factor. What I mean is that it is easy to be kind and objective with tourists when you are fairly well off financially and feel that you are living in a country where the government takes care of you. Quite another story, however, is when you feel left to your own devices and perhaps TV pesters you with images of opulence and wealth from other countries.
In fact, many Thais, while living in a genuine paradise on earth, enjoy only a fraction of it because the best is offered to the millions of tourists from the West and other Asian countries. For reasons whose discussion is not the subject of this article, only a tiny fraction of the tourism revenue ends up in the pockets of those who contribute through their hard work to generate this money inflow.
When I return, I can only hope to find a more favorable situation toward the people of this wonderful country, just as I hope to have the chance to learn more about Malaysia, another country that is as promising as it is controversial on human rights issues.