Thailand & Malaysia
(13 October – 1 November 2018)
The northern region of the country is characterized by mountainous terrain, whereas the central part comprises mostly flat landscapes. The southern peninsular strip also exhibits mountain formations.
I opted to travel at the end of the extended monsoon season, which spans from May to September. During this period, the prices are still low, but the weather progressively improves, making it an ideal compromise.
To experience the varied flavors of Thailand, I chose to stay in Bangkok, Krabi, and Chiang Mai. Bangkok offered a glimpse into the bustling life of a metropolis with over 10 million inhabitants. Krabi allowed me to unwind and indulge in the serenity of Thailand's famed beaches. Chiang Mai, with its tranquil and almost sacred atmosphere, provided a stark contrast.
Additionally, since I had friends in Kuala Lumpur, located just a few dozen kilometers south of the Thai border, I deemed it worthwhile to visit the Malaysian capital and explore its surroundings.
Departure to Bangkok
Air Italy, an airline that emerged from the remnants of Meridiana a few months prior, is currently offering an attractive inaugural price for direct flights from Malpensa to Bangkok, with a flight time of less than 12 hours. As my travel itinerary is not straightforward, including stops in Krabi, Kuala Lumpur, and Chiang Mai, I plan to travel light with only a rollerbag as my carry-on.
Since the temperature in all the destinations is expected to be around 30 degrees Celsius (except for Chiang Mai, where it can get cooler at night), I'll only need a few T-shirts, two pairs of shorts, and some underwear. Fortunately, laundry services in Thai hotels are affordable, and traveling without checked baggage will allow me to take advantage of low-cost airlines' rates in the region that follow the same model as Ryanair – with a basic ticket costing only a few euros and luggage check-in fares being up to three times more expensive.
Since I must pack all my necessary belongings in my rollerbag for the long flight, I decide to pay an additional 30 euros for the Priority Board service. This service permits me to board the plane with the business class passengers and ensures that I can stow my bag in the overhead compartment above my seat, allowing easy access throughout the flight.
To my dismay, upon boarding, the gate attendant calls only for economy class passengers, and I find myself at the back of the queue, caught off guard by this unexpected change. When I express my frustration, the attendant informs me that Air Italy had not communicated the existence of a Priority Board service.
Luckily, the flight isn't fully booked, and miraculously I'm able to secure storage space for my luggage close to my seat. Coincidentally, I encounter a similar situation on my way back home.
Looking back, it's not entirely surprising that Air Italy will go bankrupt and be liquidated only after 16 months of operation.
Fortunately, the aerial view is stunning for a significant portion of the journey (provided that, similar to me, you appreciate dry, rocky, desert terrain), and time flies by swiftly and without any more unpleasant occurrences.
First Days in Bangkok
To better explain what happened after I arrived in Bangkok, I first need to provide some context about my relationships with the people I visit on my trips to Asia.
These are individuals whom I have met online for a variety of reasons and with whom I have formed strong friendships over the years. Being much younger than me offer two advantages:
1) they have more free time since they haven't started families
2) they offer insight into the future of their country through their lifestyle, attitudes, and expectations.
However, with Thais, it's important to consider another aspect. In their culture, the relationship between a young person and an 'elderly person' (meaning over 50) is based on mutual assistance. The elderly person provides for the material needs of the young, who, in turn, show respect and devotion to the elderly by trying to meet his needs. Unfortunately, this type of relationship can degenerate into abuse, even towards minors. Thailand is notorious for sex tourism by middle-aged Western men who exploit impoverished boys and girls in the Pattaya area.
In my case, I had arranged with a 25-year-old acquaintance with whom I had been in regular contact for almost a year that I would pay for his hotel and meals in Bangkok, and in return, he would serve as my guide. However, when a relationship is based more on mutual convenience than affection, the market forces can take over.
This is precisely what happened to me – no one was waiting for me at the airport, and my messages and calls went unanswered. The acquaintance eventually apologized via text message, informing me that he had found a more lucrative way to spend his time. I never heard from him again.
Fortunately, I had a second contact who was more reliable and helped me during my stay in Bangkok. However, he too disappeared after completing his task, and that's why I will not show his face in the photo you see below.
Am I suggesting that Thais are ungrateful parasites? Absolutely not! As I will demonstrate later in this article, Thais are kind, friendly people who suffer from a political system that disregards citizens' welfare. They do what they must to get by.
If you haven't experienced their lives, you have no right to judge them. However, you should be aware of the prevailing social dynamics in the country in case you ever have to deal with them.
I selected my initial lodging in the northern region of the city, near the second-largest airport, Don Muang, from which my early morning flight to Krabi departs in just two days.
Upon checking in, I was greeted by an unexpected guest – a frog that had found its way into the lobby. Despite this less-than-ideal welcome, Livotel in Kasetnawamin exceeded my expectations with its cleanliness, peaceful ambiance, and hospitable staff.
I reached out to the person I planned to meet later in the month and explained my situation, requesting if he could make time for me during the first two days after work. His affirmative response lifted my spirits, and we arranged for me to pick him up at the mall where he works a few hours later.
Readers of my article on Sichuan are already aware of my fondness for Asian malls, and Central World is no different.
Established in 1990, Central World has undergone numerous expansions and currently ranks as the ninth largest mall in the world. Spanning eight stories, it boasts a convention center, hotel, 15-screen cinema, dozens of restaurants, hundreds of stores, and a parking facility that can accommodate up to 7,000 vehicles.
After completing his shift at the restaurant, "John" (pseudonym) and I are ready to immerse ourselves in Bangkok's bustling nighttime scene, which is akin to the city's daytime bustle.  I quickly discover that Bangkok is an exhaustingly vibrant city, where at any hour – day or night – one is met with a barrage of pedestrians, cars, mopeds, buses, tuk-tuks, and bicycles amid the relentless heat that constantly hovers above 30 degrees Celsius and suffocating humidity only exacerbated by the thousands of air conditioners scattered throughout the city.
For those unaccustomed to these circumstances, the overwhelming combination of noise and stifling weather can result in a dizzying effect that becomes more pronounced the longer one remains outdoors. Nevertheless, it is impossible not to be captivated by this environment, particularly for those who enjoy social interactions.
On the following day, to fully immerse myself in the local culture, I decide to visit the Chatuchak market, not only because of its proximity to my hotel but also for its reputation as a hub of local life and commerce.
To capture the essence of this bustling market, "total delirium" seems like an understatement. From Moroccan antiques to live pythons, you can purchase almost anything imaginable.
With over 15,000 stores spread across 27 sections, this monstrous labyrinth is the largest weekend market in the world, attracting more than a hundred thousand visitors each day. It truly is a sight to behold.
John arrives in the early afternoon and proposes a trip on one of the numerous boats that navigate the Chao Phraya River.
The advantage of this kind of outing is that it's similar to riding a bus; you can embark at one pier, disembark at the next, explore the surroundings, and then board another boat to cruise another section of the river, at your own pace.
We repeat this back-and-forth journey until sunset, and then I return to the hotel since I have a flight to Krabi scheduled for the following morning.
Krabi
Krabi is an enchanting municipality of roughly 32,000 inhabitants situated in the heart of Phang Nga Bay. I intend to spend almost a week there indulging in leisurely pursuits and exploring the stunning natural landscapes of that area.
I opted for Krabi because, despite its proximity to Phuket, it maintains a distinct identity that is less inundated with tourism, creating a more tranquil atmosphere. As much as I have already developed an affection for Bangkok, the prospect of spending six idyllic days in Krabi following just two and a half days in the bustling capital is equally appealing to me.
The hour-long flight from Bangkok to Krabi proves to be one of the most enjoyable experiences I've had in the air.
Thanks to Lion Air's excellent service and the stunning scenery outside, the journey feels nothing short of delightful. The air-conditioning system of the plane diffuses a refreshing lemon fragrance throughout the cabin, and I even get to try dried banana stuffed with tamarind – a delectable treat!
Just when I think I have discovered my favorite airline – an Indonesian carrier, a tragic accident involving a Boeing 737 MAX will occur just two weeks later. A plane will crash into the Java Sea moments after takeoff, claiming the lives of all 181 passengers and eight crew members on board. However, the subsequent investigation will reveal that a design flaw in the MAX model was the primary cause of the disaster. Few months later, authorities will ground this type of aircraft after a similar incident in Ethiopia.
The bed in my room at The Nice Hotel is so pretty, that I almost regret undoing it. Furthermore, I have a small balcony that overlooks a tranquil pond.
Though the surroundings appear suburban, the location is convenient, as a magnificent temple, the city center, and a street food market are all within a few hundred meters' reach.
During my previous trip to China, I discovered durian, a fruit that's delicious if you're fond of a cheese-like flavor, yet nauseatingly foul-smelling. The hotel room and elevator contain warning signs cautioning guests not to open the fruit within the premises, and any offenders will face a steep fine of 2,000 baths, which is equivalent to around 54 euros, a considerable sum for a Thai.
My current quandary is where to experience a renowned Thai massage, given that a middle-aged white man might overstimulate the imagination of some young girls who nurture the perfectly legitimate dream of moving to a wealthier country and leading a more affluent life. I decide to play it safe and book a massage at the hotel's parlor, which is available right away.
Sadly, I soon regret my decision. The lady in charge, who's at least ten years my senior, twice proposes marriage to me after divulging her life story. She then urges me multiple times to contact her directly for future appointments, but I decline, causing her to crack my back so loudly that the noise might have been heard in Italy.
After my experience with the lady masseuse, although a bit disconcerting, I find myself craving food. Since it is almost dinner time, I decide to explore the nearby street food market. This gives me the perfect opportunity to share with you the exquisite Thai cuisine, and the delicacies that I will be enjoying in the coming days.
In Thailand, dining in restaurants is almost frowned upon because the most authentic and flavorful cuisine can be found on the streets (a statement that is somewhat true for all of Southeast Asia). The hallmark of these "street kitchens" is that they specialize in only a few dishes, which they execute to perfection.
The images above showcase some of the places where I dined. I chose the first one because I observed the cook intentionally dropping bits of food on the ground for the many stray dogs and cats that roam the streets of Krabi. Although he only makes pad thai and fried mussels, they are a treat for the senses. This meal only cost me 2.20 euros, which included water and a tip.
The second restaurant only serves three types of soup, but they are so flavorful that I couldn't resist trying all three. The cook was amazed and pleased by my adventurous palate. I paid 3.60 euros for this meal.
Have you ever tried a mouthwatering banana and coconut pancake or a delectable durian smoothie, both for only 1 euro?
The last two photos depict shrimp with rice, cashew nuts, and vegetables, as well as canned dragon fruit, which can be found at any food stall or supermarket.
If my message is not clear enough, I hope this video provides a better understanding. It offers a glimpse of the bustling markets found in every town and village in Thailand, where people gather to enjoy a wide array of flavorful dishes. Please note that I filmed less than 20% of the market.
I wish I could spend at least a year here, indulging in every dish from every stall.
The video concludes with a brief glimpse of an indoor market.
Street food in Krabi
When eating is pure pleasure
Although I'm still satiated from last night's meal and experiencing discomfort in my back, I summon the determination to face the arduous day ahead with enthusiasm.
I'm aware that it will be physically challenging, but I'm convinced that my efforts will be rewarded.
The Tiger Cave Temple is an awe-inspiring Buddhist shrine situated in the northeast of Krabi, boasting an equally awe-inspiring location. Its name is derived from a fabled tale of the founder monk who embarked on a meditation journey in a nearby cave, and there he stumbled upon the footprints of a majestic tiger that had just passed by.
Reaching the temple is a breeze, as you can effortlessly drive there. However, ascending to the colossal golden Buddha statue resting atop the mountain necessitates a grueling climb of 600 meters, including a vertical ascent of 309 meters. This feat is achieved by tackling 1,260 steps, some of which soar over 30 cm high.
The task becomes more challenging due to the sweltering 32°C heat, accompanied by high humidity of 91%, steep steps to climb, and persistent skirmishes with monkeys attempting to snatch my bag.
Nevertheless, from the summit of the mountain, the panoramic view of Krabi and the surrounding valley revitalizes me to such an extent that my exhaustion vanishes.
That's good news for me, since a swiftly approaching thunderstorm compels me to descend immediately, and I manage to seek shelter just in time under the awning of a nearby restaurant close to the temple.
The following video chronicles the events of the day, starting from the hotel balcony's perspective, through the cab ride to the temple, and all the ensuing happenings.
All the videos included in this article were sourced from Facebook, which, unfortunately, compressed them excessively. Fortunately, the situation has since improved.
Tiger Cave Temple
Tiring but extremely rewarding day
Upon returning to the hotel, I make a conscious decision not to embark on another long walk the following day. I therefore head to the front desk to secure a spot on the 4 Island Tour by Speed Boat. As this excursion is widely offered by multiple agencies in Krabi, booking proved to be a breeze.
The tour encompasses visits to four stunning islands: Phra Nang, Tup Island, Chicken Island, and Poda Island. The itinerary boasts an array of activities, including frolicking in the crystal-clear waters, snorkeling, sunbathing, and capturing countless snapshots – exactly what I was hoping for.
The initial sight of the beach where we will depart is disheartening, as several stray dogs roam around in search of food or doze in the mild sun. However, the memory of the restaurant scene a few nights ago and the benevolent attitude of the Thais towards animals uplift my mood to some extent.
The seascape is awe-inspiring, with numerous rocks (labeling them as islands may be an overstatement) emerging from the depths. As we set off, I rush to the front of the speedboat to capture a photograph.
I think the photos above require no special explanation or comment. The question is not "whether" to go, but "when".
4 Island Tour
For a relaxing day out in nature
As I'm intrigued by the idea of balancing the sacred and the secular, I decide to explore Wat Kaew the following day. This grand temple, situated only 400 meters away from my hotel, is the largest and most prestigious in Krabi.
Apart from its aesthetic beauty, the temple's predominant white and yellow colors accentuate its immaculate appearance. I haven't mentioned this before, but please note that if you're worried about unhygienic conditions, you can rest assured in Thailand. From the temples to the tourist areas, and even in outdoor kitchens or remote regions, I've always encountered a high degree of cleanliness.
With the entire afternoon at my disposal, I decide to explore downtown, an area I have yet to venture into. I'm careful to steer clear of streets lined with massage parlors, where women are poised outside to solicit clients.
Just to clarify, there is no danger associated with visiting these establishments! At most, you may receive a joking marriage proposal, and in some cases, a lonely man might even find the situation enjoyable. However, it is not the environment I'm seeking.
Although there isn't much to see, I find the "monkey" traffic lights quite charming, as well as the enormous crab towering over one of the main streets. From that same spot, I am  treated to a view similar to the one I had seen the previous day from the beach.
The next day, I depart from the city once more and journey towards the northwest region of Krabi Province.
This venture promises to be an unforgettable one, as I am about to embark on my very first kayak expedition along a river.
Ao Luek is situated approximately 45 km away from Krabi and is part of the Bok Khorani National Park, offering access to beautiful river locations such as the water caves of Bor Thor and the Skull Cave. The latter features prehistoric paintings and derives its name from the numerous skulls of primitive men discovered there.
What makes this excursion exceptional is that even if you lack kayaking experience or are no longer in your youth, you can still safely explore the area. An experienced guide will accompany you throughout the journey, handling all the physical demands of moving the kayak. This means you can focus on taking in the breathtaking sights and capturing plenty of photos.
This particular adventure is widely available at most travel agencies in Krabi and is likely to be offered by your hotel as well.
Ao Luek
If you don't believe in the existence of walking fish, watch this video
Time has elapsed quickly, and it's now time to prepare for my next destination. Please join me, I can't wait to meet you in…
To traverse the 750 km distance separating Krabi from Kuala Lumpur, a city with a population of approximately 1,800,000 and the capital of Malaysia, AirAsia offers the most expedient solution with several direct flights that have a duration of 70 minutes.
Despite my reservations about purchasing a ticket from AirAsia due to negative reviews, a closer inspection of the critiques reveals that most of the criticisms arise from the passengers' lack of awareness.
Regrettably, when traveling to foreign countries, many individuals expect conditions to be identical to those in their home country and neglect to read the airline's regulations. AirAsia was among the first airlines to enforce a 7 kg limit on carry-on luggage, which eventually became standard practice, but their regulations are transparent and readily available before you buy your ticket.
Nevertheless, at the Krabi airport, I observe several Caucasian tourists waiting to board the same flight as me with a plethora of possessions, demanding to carry them on board. Under these circumstances, conflicts with the airline are inevitable, and in reality, the boarding process is interminable due to confrontations between these insolent individuals and the boarding staff.
During my journey, I will take two additional flights with AirAsia, and I am thoroughly satisfied with their service.
An Australian friend has made the hotel reservation. A few weeks earlier, he learned that we would be in the same city at the same time. As a cost-saving measure, he suggested that we share a room in a high-quality hotel.
I am not among those who view wealth as an absolute evil. I firmly believe that if you possess talent and the bravery to take risks, you deserve to be rewarded. Therefore, I am not opposed to indulging in luxury, provided it is enjoyed in moderation. When it becomes a habit, it loses its significance.
The Pullman Kuala Lumpur Hotel undoubtedly deserves the label of luxury. Our room on the 24th floor provides a stunning view of the Petronas Towers. At check-in, we are escorted to a private room where a server brings drinks. The hotel also features a tropical-style swimming pool and a variety of amenities, which are described in detail in one of the photos above.
The access granted to the Executive Lounge is highly valued, as it allows one to indulge in unlimited food and drink during specific hours of the day. However, caution is required to avoid overindulgence, particularly with alcoholic beverages.
While I generally consume alcohol in moderation, my love for cocktails is my Achilles' heel. The knowledge that I can order unlimited cocktails, included in the room price, can be a dangerous temptation.
As night approaches, it's time to venture out and explore the city's vibrant nightlife. Although it's bustling like Bangkok, it's less noisy and suffocating, making it a less taxing place to reside in.
Kuala Lumpur
Nightlife in the capital of Malaysia
The following morning, I rise early with eagerness to experience the hotel's breakfast offerings, and with anticipation for my rendezvous with Kenny, my local friend who motivated my visit to Malaysia, as he is set to arrive at 9:30 a.m.
Kenny arrives in the company of a friend, and promptly takes me to explore the magnificent Batu Caves, a cluster of caverns located north of Kuala Lumpur, which serve as the habitat for over 200 distinct species of animals and a community of about 300,000 bats.
An American discovered the caves in 1878, and to enter the primary one named Temple Cave, visitors must ascend 272 steps of a stunning multicolored staircase.
The Temple Cave spans 180 meters in length and 100 meters in height and requires a guided tour. Formerly free to access, the local government now regulates entrance due to the destructive practice of visitors carving their names on the walls.
Wearing a helmet is mandatory, not so much for protection against debris from the ceiling, which is unlikely, but to safeguard against the frequent droppings of the adorable bats who may hurl an unwanted souvenir at those who disturb their abode.
The complex houses several monkeys and a temple as well.
After concluding the visit, we take a stroll through the Central Market, operating since 1888, where pavilions are segregated based on geography for an authentic shopping experience.
One of my most cherished moments while traveling is indulging in local desserts, and Kenny kindly serves me Malaysia's most notable dessert, cendol, which contains coconut milk, glutinous rice, beans, and tapioca. I relish its flavor and, for the first time, savor powdered ice. Four years later I will find again this unusual ingredient in Seoul.
Following that, we'll make a quick stop at the nearby Chinatown. Some individuals may question its significance.
It's worth noting that Petaling Street, specifically the section captured in the second photo, is a central location for the distribution of counterfeit goods across the world. Despite its notoriety, no measures have been taken to address the issue.
Interested in a 'Rolex' watch for only 30 euros? Why pass up the opportunity?
Before returning to the hotel, we'll embark on one last tour of the city. As we've come to know, the hotel is in close proximity to Kuala Lumpur's most renowned landmark, the Petronas Towers.
October 22nd marks the occasion to embark on a journey to the Genting Resort & Casino, nestled atop a scenic mountain range 50 km northeast of Kuala Lumpur.
This location offers the perfect combination of retail therapy and gambling. However, what sets it apart is the breathtaking Chin Swee Caves Temple located right next to it.
A mystical fusion of the sacred and the secular is present here, surrounded by lush greenery at an altitude of 1,400 meters. This makes it an ideal destination for those seeking solace in prayer or a serene escape from the city's hustle and bustle.
The Chin Swee Caves Temple is a revered destination not just for Malaysians but also for worshippers from China, Vietnam, Singapore, Thailand, Indonesia, and Taiwan. Please watch the video below for a more detailed insight.
On this Malaysian adventure, I have touched upon shopping a few times, but do you believe that an avid Asian mall enthusiast could confine themselves to only visiting two or three malls?
Now, presenting the customary collection of these marvels, and it's worth noting that in Kuala Lumpur, there is a mall – Berjaya Time Square – with a fully functional roller coaster that runs through its aisles. Absolutely irresistible!
Another aspect that captivates me about these places are the signs, which often pique the curiosity of those unfamiliar with this region.
Let me share a couple of examples: the first illustrates that the infamous 'Durian, The Stinky' curse transcends borders and the second… well, I'll let the sign speak for itself. While our initial response may be amusement, it's important to recognize that for many individuals worldwide, something as mundane as a toilet can still be a novelty.
It's time to head back to Thailand, but before we do, let's create a video recap of the last two days spent in Malaysia.
A day in Malaysia
A very interesting country, from the little I saw, although I could never accept some of its human rights limitations.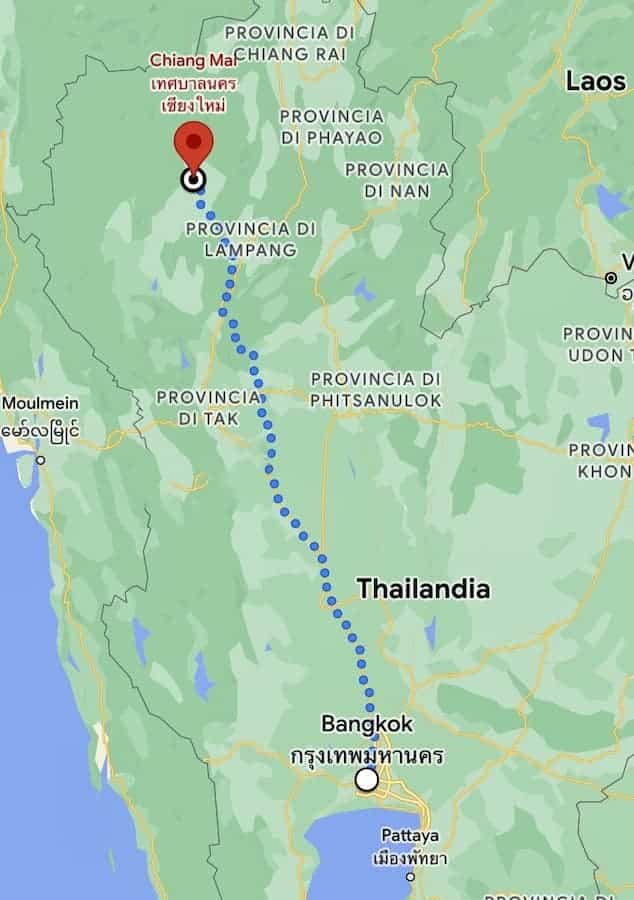 Chiang Mai, the second-largest city in Thailand, is home to 132,000 inhabitants, or 1.8 million if the entire urban area is counted. The city is situated 700 km northwest of Bangkok, in a valley in Thailand's most mountainous region, with the towering Doi Suthep and Doi Pui mountains, both around 1,700 meters high, dominating its western periphery.
During my stay in Malaysia, I received fantastic news: my friend Vinh, a Vietnamese young man whom I met while he was working as a cook in Boves, in the province of Cuneo, and who has returned to his hometown of Ho Chi Min, has agreed to accompany me to the ancient capital of a kingdom that roughly corresponds to modern-day Thailand. He will also stay with me for a couple of days in Bangkok, where I will spend the last five days of my trip to the land of Siam.
At Bangkok's Don Mueang airport, Vinh and I meet, and I immediately give him a copy of my first two albums, The Observer and Universal Laws, which I was unable to do when he was in Italy.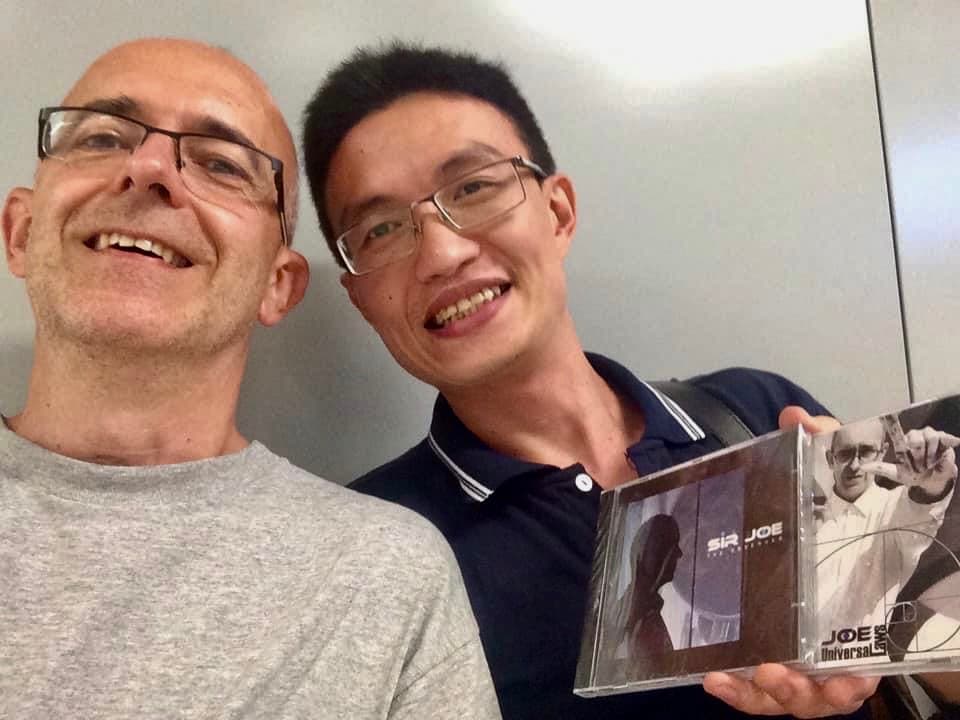 The Somwang Boutique Hotel, at a very reasonable rate of 16 euros per person per night with breakfast included, is a delightful oasis boasting lush greenery and a refreshing pool, which I intend to frequent. Additionally, the town's canal-lined streets and more temperate climate leave a lasting impression, particularly after experiencing more stifling environments so far in this holiday.
Despite being only 310 meters above sea level, the crisp mountain air is unmistakably invigorating, offering cool and comfortable evenings.
Despite the three-hour flight delay, we manage to change in the nick of time and hurriedly make our way to the local cultural center for the traditional northern Thai dinner that Vinh has reserved.
While the meal may be uncomfortable, owing to seating arrangements, the food itself is delectable, and the overall ambiance of the cultural center delightful.
The enchanting musical and dance presentation that unfolds before us towards the end of the meal undoubtedly enhances the ambiance of the evening.
The skilled performers, draped in vibrant traditional attire, captivate our senses with their rendition of song and dance.
Dinner in Chiang Mai
Great idea by the city's cultural center to offer tourists the opportunity to savor local cuisine and partake in a captivating showcase of traditional songs and dances
Vinh's planning skills are truly exceptional. In addition to this dinner, he has arranged a trip for tomorrow that will take us almost to the summit of Doi Suthep, a mountain I mentioned earlier, to visit Wat Phra That, a Buddhist temple established in 1383 and one of the most significant pilgrimage sites in the entire country.
Departing from Chiang Mai, we ascend the winding roads of Doi Suthep in a songthaew, a common mode of public transportation in Thailand and Laos, and then climb 309 steps to reach the temple. As you might have guessed, whether in Thailand or Malaysia, a temple visit requires enduring hundreds of steps. My aching knees express their heartfelt gratitude.
Upon arrival, the most noteworthy feature is the statue of a white elephant, which serves as a commemoration of a legend. As the story goes, a white elephant transporting a sacred relic collapsed upon reaching this very spot, inspiring the construction of the religious site.
With so many sights to take in, I find it best to let the photos do the talking.
After a long day, exhausted yet elated, an unforeseen moment unfolds at the hotel that reminds me of the beauty of our planet. I'm on the terrace gathering my laundry when I notice the sun's rays piercing through a colossal tree, perfectly centered. Thankfully, I have my smartphone with me and I quickly snap a photo without adjusting any settings. I don't want to miss this fleeting, enchanting moment.
This photo holds a special place, not because of its technical quality, which is far from perfect, but because it serves as a reminder from the universe that sacredness can be found in any instance if you remain mindful and present, and keep your senses attuned to the world around you. It's not just in holy places like temples, churches, or mosques, but everywhere you look.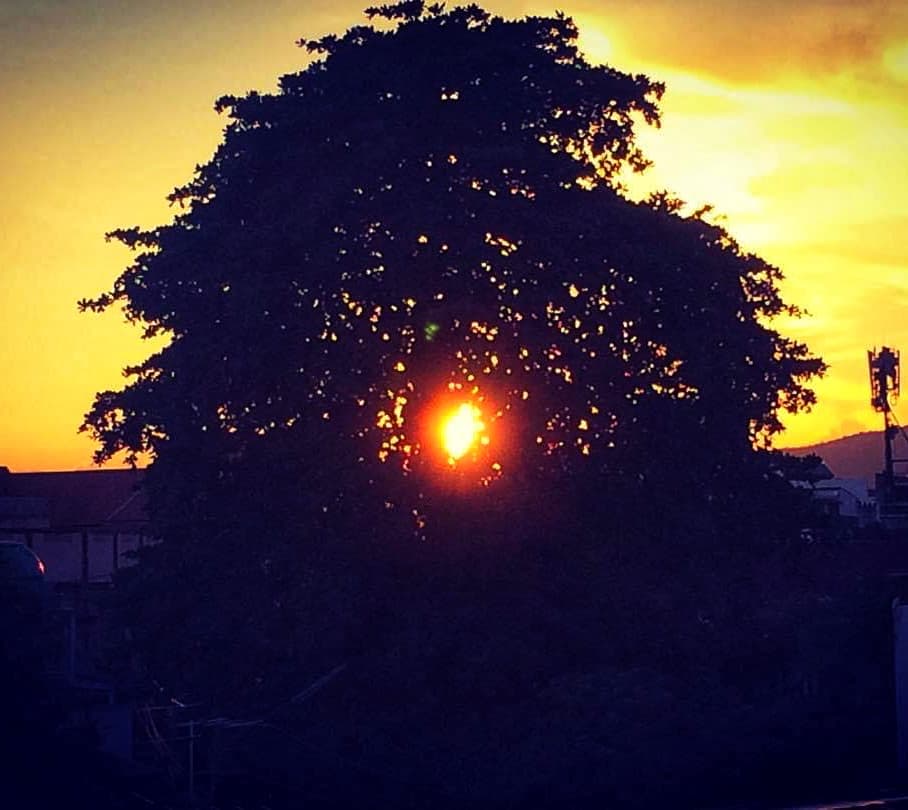 Considering the abundance of over 300 temples in and around Chiang Mai, it's unsurprising that you can find one by walking a mere few hundred meters in any direction. This is reminiscent of the numerous churches present in Italy.
Behold Wat Chedi Luang, situated at the heart of the city and distinguished by a broad, Lanna-style stupa. The stupa took several years to construct and suffered damage from an earthquake during the 16th century.
Founded in 1401, the temple was a subject of dispute in the early 20th century as some of the reconstructed parts were perceived to belong to central Thailand's culture rather than Lanna, which characterizes this region. Nevertheless, the site is unquestionably worth exploring.
We say goodbye to Chiang Mai with a final tour of its temples.
I regret not being able to provide names for the photos. At the time, I didn't envision sharing them with an audience beyond my friends. Everywhere I turned, there was a captivating temple, prompting me to snap photos without much regard for their history or nomenclature.
I welcome any assistance in cataloging these photos. Please feel free to contact me through the contact section or leave a comment below this article.
Back to Bangkok
The third leg of my stay in Bangkok stretched out to be the longest, spanning five days, despite the short duration.
Looking back, my decision to repeatedly touch down and leave turned out to be fitting. As mentioned earlier, the bustling city was incredibly exhausting due to the heat, humidity, constant clamor, and crowds. However, despite these challenges, there were numerous things to relish. Ultimately bidding adieu to the city left me with a twinge of melancholy as I would have gladly extended my stay.
After leaving the placid and tranquil Chiang Mai, returning to Bangkok's atmosphere is almost traumatic. Without realizing it, I have reserved a guesthouse in an area where red-light clubs are rampant at night, although Silom is not widely known for such activities. Given that any middle-aged white man is perceived as a potential millionaire seeking pleasure, I am swarmed by dozens of girls and boys offering "special massages," "ping pong ball shows," and various contortions as soon as night fell and we go out to look for a place to dine. Thankfully, Vinh comes to my aid, portraying himself as my "Thai boy" and making it apparent that I am already taken.
Once we have eluded this friendly band of assailants, we grab a bite at one of the many food stalls scattered throughout the area.
The initial photograph fails to provide an accurate representation of the situation, but I did not feel inclined to take additional footage or search for more telling snapshots.
The remaining two photographs display a market aisle and one of the many street food stalls where the food is always delectable.
Despite the allure of the local nightlife, the prospect of waking up at 6:30 a.m. the following morning would dissuade me from indulging.
In fact, we've arranged a trip to the Damnoen Saduak floating market, situated 73 km north of Bangkok and renowned as one of the nation's most extensive floating markets.
Upon arrival at the site via bus, we proceed to board a traditional long-tail boat and subsequently switch to a motorless vessel. Initially, I have anticipated a serene and genuine adventure, but the canals are congested with tourists, making them busier than the streets of Bangkok!
Luckily, the perpetually composed demeanor of the Thai people render the experience enjoyable. Additionally, the seafood pad thai and coconut ice cream that we procured hastily from the boat are deserving of commendation.
The most interesting thing of today, however, is discovering that people here carry around quite unusual pets.
Below, you can also see a video summary of the day.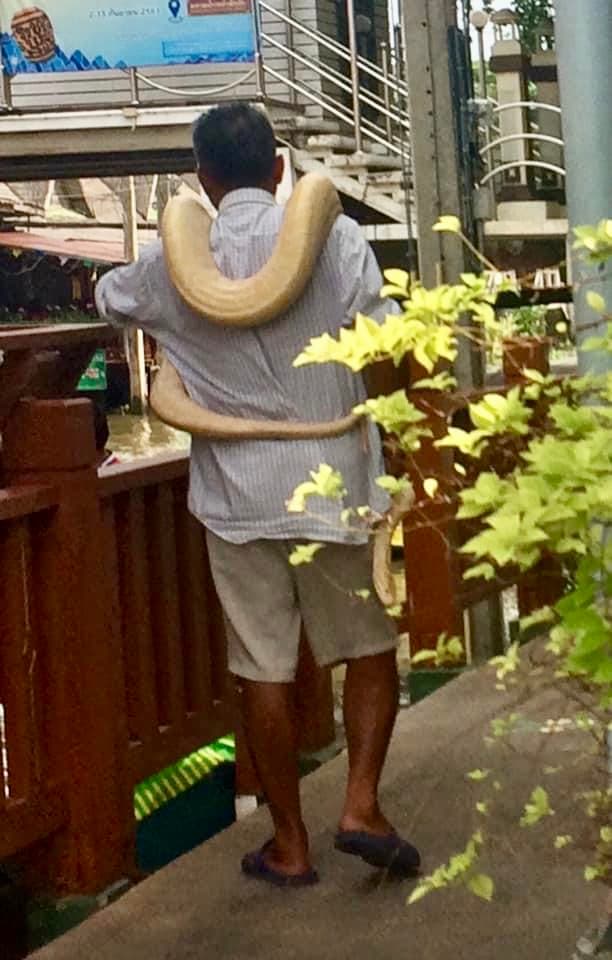 Floating market
In Damnoen Saduak you can experience something perhaps not entirely authentic due to the overcrowding of tourists, but certainly interesting
As with any prestigious Asian metropolis, Bangkok boasts an awe-inspiring observation tower that delights me.
The Bayioke Tower II, soaring 309 meters and comprising 88 stories, stands as Southeast Asia's tallest hotel edifice, although it ranks fourth among Bangkok's loftiest buildings. The 77th-floor observatory is complemented by an 83rd-floor restaurant where I indulge my seafood cravings.
The cityscape from the tower's observatory is nothing short of breathtaking.
After presenting the stunning temples in Krabi, Chiang Mai, and Malaysia, I want to clarify that Bangkok is not merely a city of sin. Instead, Thailand's capital is home to remarkable temples, including the Wat Traimit, also known as the Temple of the Golden Buddha.
The Buddha statue at this temple is the world's most extensive solid gold statue and is one of the most valuable treasures in both Thailand and Buddhism.
For a couple of centuries, its true value remained unrecognized. In 1765, to safeguard it from being looted by the Burmese who were attacking Bangkok, the statue was covered with a thick layer of stucco painted with gold.
It wasn't until 1955, when the statue fell during a relocation and the stucco broke apart, that the temple manager observed the gold shining beneath the surface.
To conclude the trip in a grand manner, I indulge in a luxurious stay at a 5-star hotel for the final two nights. As I have already shared my thoughts on opulence, we can move on to other topics.
The Lancaster Bangkok is a highly recommended hotel that I was able to book at a greatly discounted rate from the Secret Escapes website.
I would like to take this opportunity to recommend two websites that I use to book lavish hotels when my budget permits me to indulge in a few nights of luxury. The first one is Secret Escapes, which I mentioned earlier, and the other is Voyage Prive.
Both these websites are extremely reliable for hotel reservations, and I have personally found them to offer the lowest prices available in the market for the past eight years. However, I do not recommend using them to book additional services such as excursions or event tickets for two reasons:
Since these bookings are not handled directly by the websites, there could be communication gaps with the local agencies they rely on. This could result in situations where you may not know whether your booked desert excursion in Dubai was successful until you arrive, as happened to me.
Unless you are booking exclusive events that need to be reserved months in advance, you will find that the same prices are available directly at the hotel or travel agencies upon arrival, along with a greater variety of choices.
I have always longed for the indulgence of bathing in an open-air pool atop a skyscraper, and finally, my wish has come true. When I have the pool all to myself and the view is picturesque, the delight is be twofold.
My bedroom boasts a peculiar feature: one wall of the bathroom can turn transparent at your whim, offering endless possibilities. I leave it to your imagination to fathom the ways this feature could be utilized.
Let me showcase some signs I stumbled upon in Bangkok hotel rooms.
The first one enlightens us about the fragility of Bangkok's sewage system, cautioning us against disposing of toilet paper in the pipes. The final sign serves as a reminder of the tumultuous relationship between Thai people and their political leaders.
Interesting Facts About Thailand
At the cinema, prior to each movie screening, a video is shown featuring images of the monarch from childhood to the present day, accompanied by a patriotic anthem. It is customary for all individuals to rise and bow their heads upon completion of the video before resuming their seats.
While some may view this as an act of respect and devotion, it appears that among the audience members there is especially a level of concentration on properly executing the ritual. Public criticism or disrespect towards the king can result in severe consequences, even for foreign visitors.
There are two additional actions that are strictly prohibited while in Thailand:
Turning your back on the Buddha, including taking a selfie next to a statue.
Pointing your finger at someone or something in an accusatory or aggressive manner, even if the intention is harmless.
While there may be other common gestures that should be avoided, the aforementioned actions are typically the most common mistakes made by unaware tourists.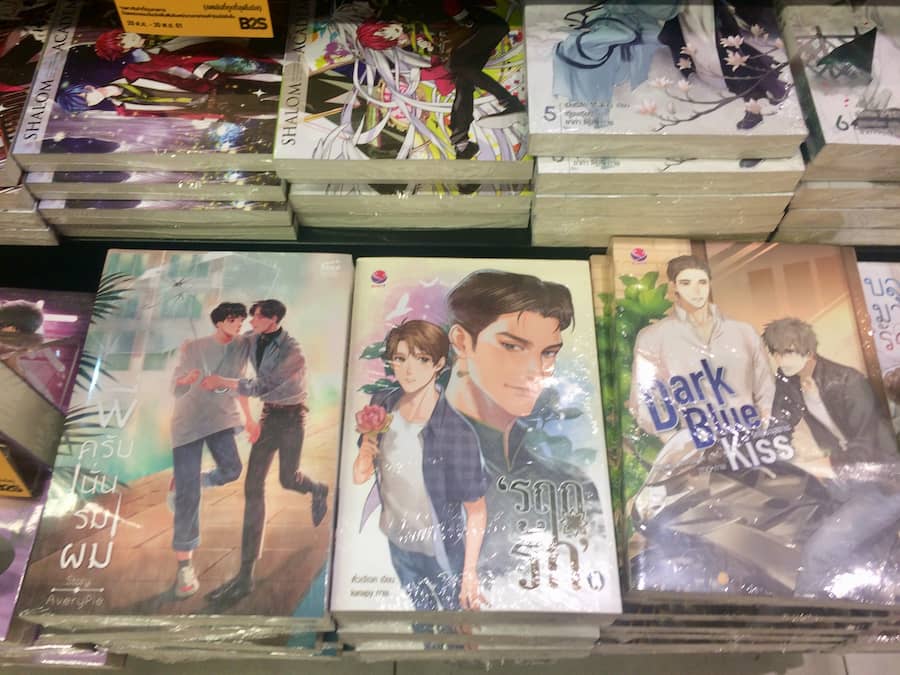 Manga novels with LGBTQ+ characters are trending in bookstores, highlighting the country's remarkable progress in embracing alternative romantic orientations.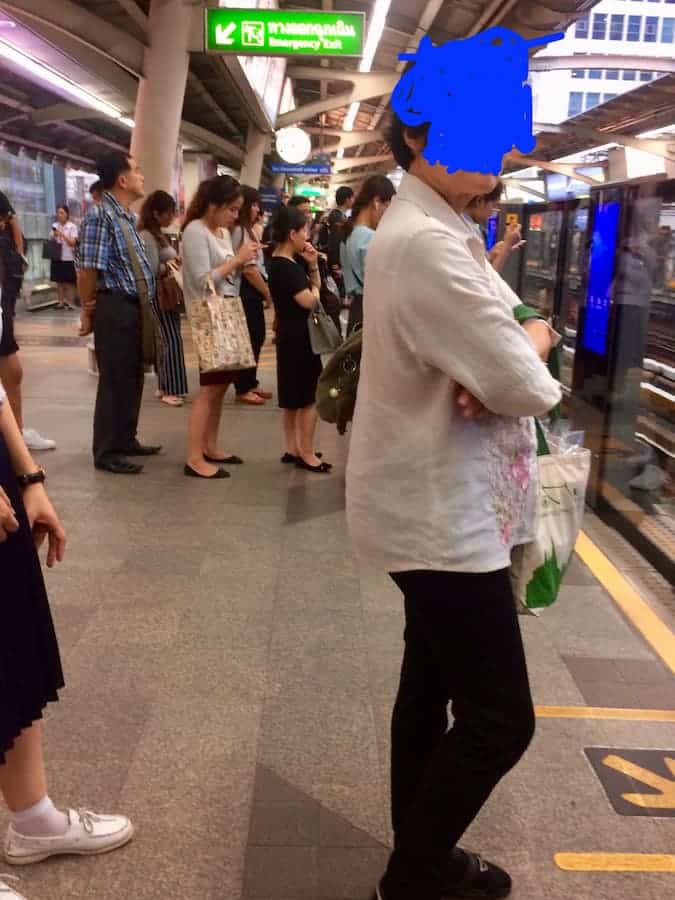 In Thailand, people show great respect for the queue at public transportation stops by standing on either side of the door and allowing those exiting to do so before boarding.
Thailand Summary
After visiting four cities, taking six flights, and staying at nine different hotels over a span of 19 days, it is now time for me to return to Italy.
Thailand's stunning natural beauty and the friendly demeanor of its people left a lasting impression on me. However, I must admit that there were times when I felt like nothing more than a walking ATM, used solely for financial gain.
In such instances, it's important to consider the poverty factor. When individuals feel left to fend for themselves and are bombarded with images of wealth and opulence, it's easy for them to become less kind and objective towards tourists.
While many Thais live in a genuine paradise on earth, they don't always get to enjoy its best offerings since they're reserved for the millions of tourists who visit from Western and other Asian countries. Sadly, only a small fraction of the tourism revenue goes towards those who work hard to generate it.
When I return, I hope to see a more favorable situation for the people of Thailand. Additionally, I look forward to learning more about Malaysia, a country that is as promising as it is controversial in terms of its human rights issues.
If you enjoyed reading this post, or you want to share your experiences in Thailand or Kuala Lumpur, feel free to do so in the comments section below. Your feedback would be greatly appreciated and would help the blog grow, allowing more people to discover it. I also encourage you to share this post with anyone who might find it useful. Thank you.